Lately we are getting spoiled when talking about 3PAR management interfaces…
The legacy IMC got replaced by SSMC StoreServ Management Console. A simple OneView-like console to configure your 3PAR system.
OneView itself allows you to create 3PAR volumes and assign them through a server profile quickly to 1 or more servers, including automatic zoning… Put the work of 3 people/teams just in 1 easy console.
Recently StoreFront Remote was released giving you cloud-based 3PAR monitoring and follow-up based on CallHome information from your storage systems.
And now Antemeta released a new version 3.0 of their 3PAR Vision software.
The software needs to be installed somewhere on a (virtual) machine and has a really small footprint just a few megabytes.
Setup is simple, just add the IP address and credentials of your 3PAR array(s).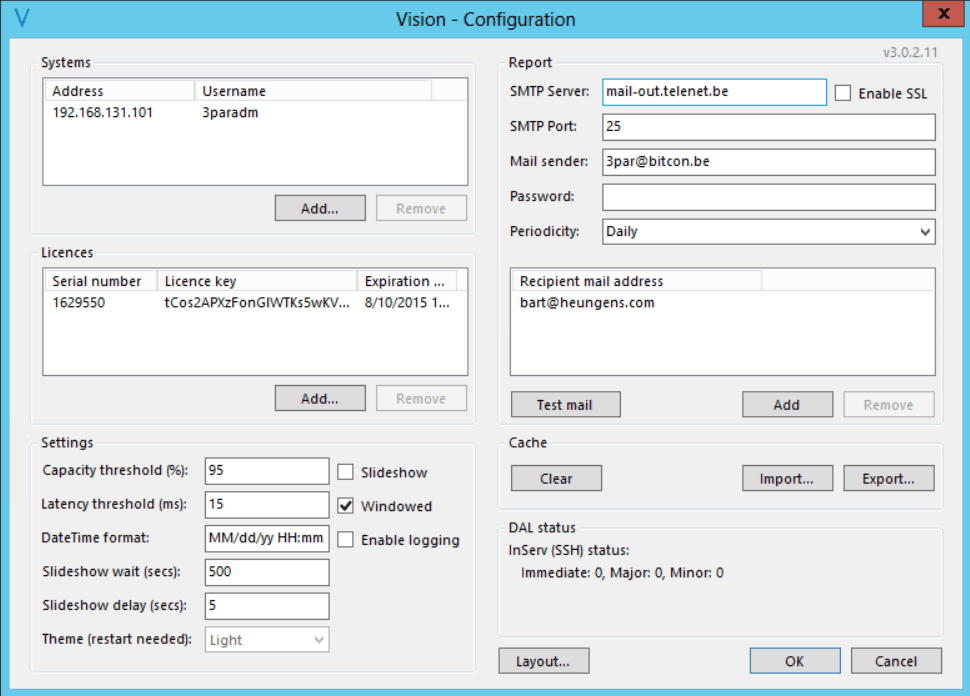 Further typical things like email notification and threshold settings can be set.
License keys are also managed here, you will need a license per system that you want to follow up.
Licensing fees are 1-time buy per array, with an optional support fee per year…
Once this is done, data will be collected and displayed in a Dashboard: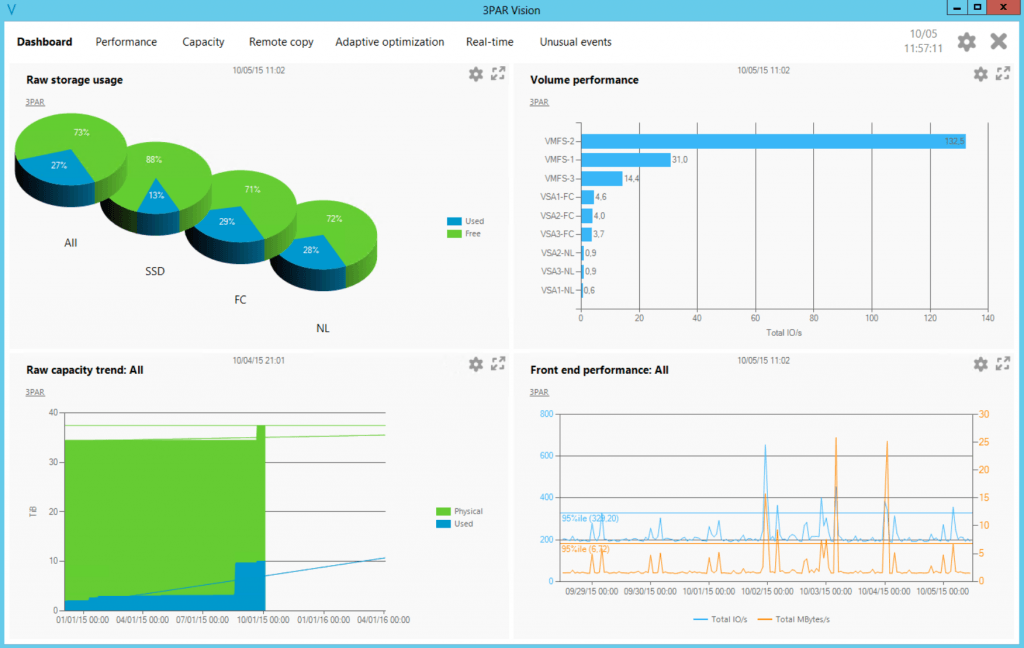 No MegaMenu here like in OneView but a list with pages that give you a drill-down specific on performance, capacity, Adaptive Optimization and Remote Copy…
New in this version is also the option to get Real-time information as well: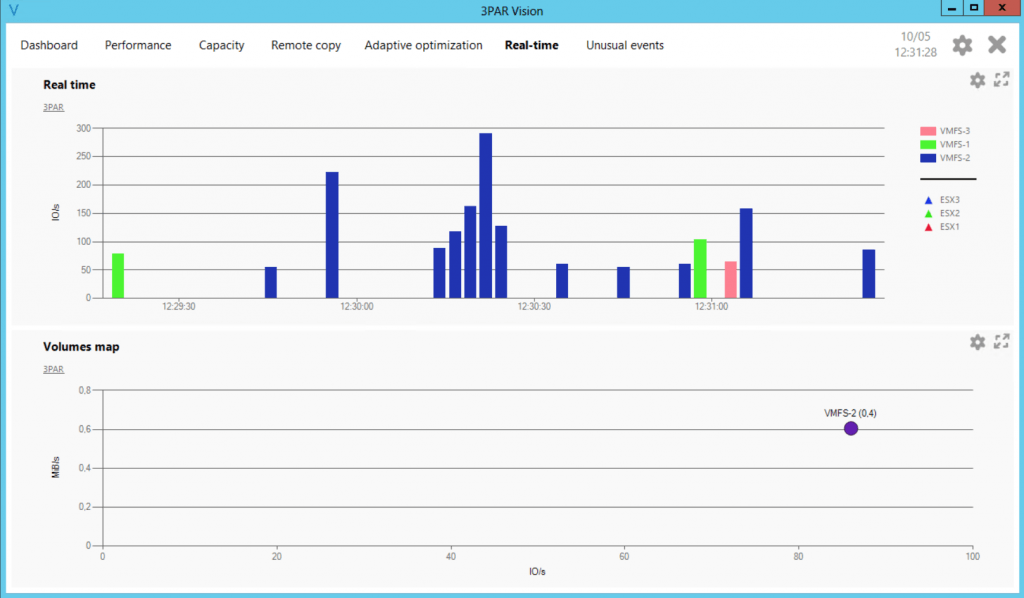 The menu itself and the page lay-out is completely customizable depending of which information you prefer to see.
You have full control on pages, rows, columns and which information inside the rows and columns. Ideal for people that don't like fixed dashboards created by people that have no idea of what you really want to see.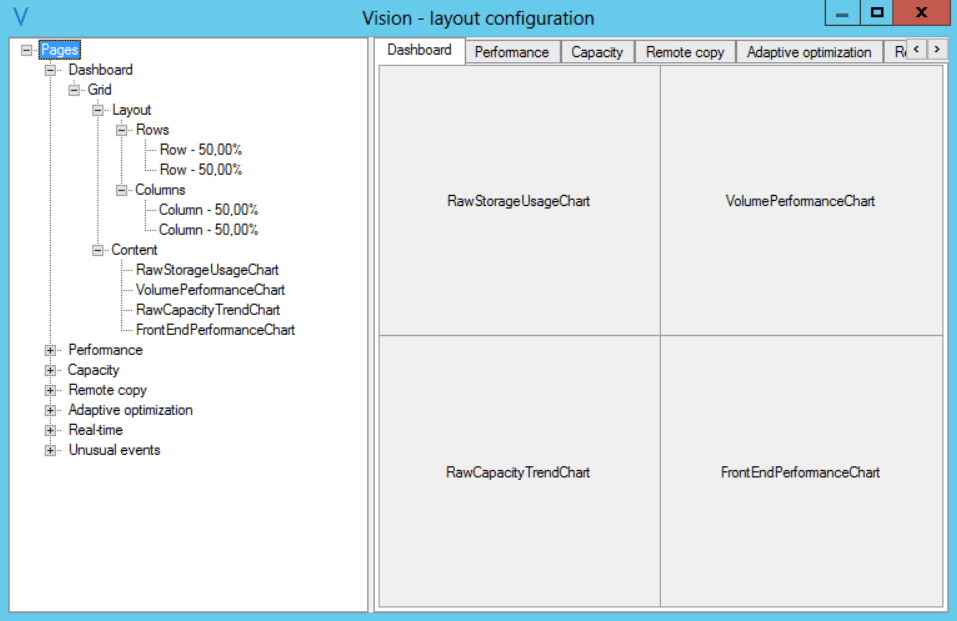 A nice feature is the implementation of capacity planning and trend analysis. You can easily see in 1 picture the current usage on capacity, eventual expansions (I added SSD's recently for some other testing, more to come on my website) and based on the usage in the past there will be a prediction on future usage: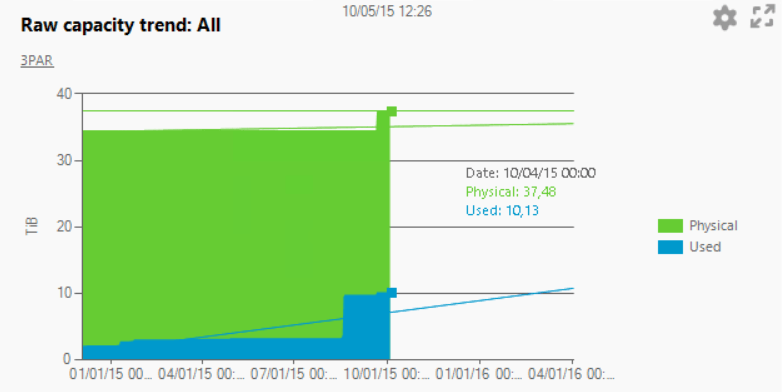 I hope for you the blue line in this example does not catche the green line to fast… I seem to be safe so far…
Another nice thing is the availability of information in 1 click where you need to run reports in the existing HP tools. 1 example here on AO: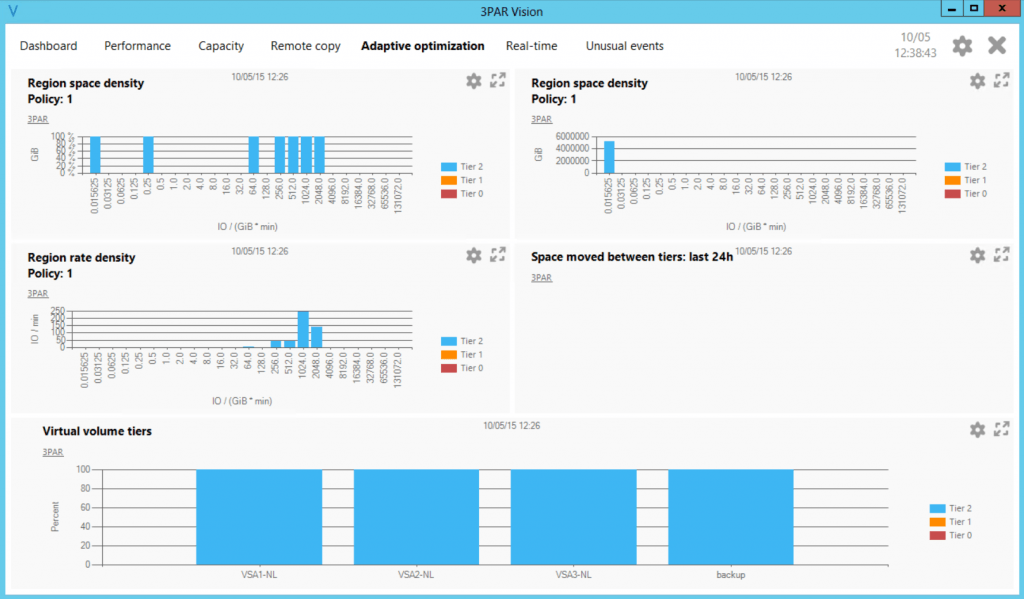 I don't have AO active yet at this moment, I will try to adapt the picture when it is more representative… But it gives you an idea already.
As you can see 3PAR Vision is a great addition on the existing tools set in the 3PAR world. It gives you quick access to important information on the real status of your storage systems, it would fit perfectly in any IT operations center.
If you want more information or a demo of the tool, visit the 3PAR Vision website and request a demo license.
Or you can always contact me as well for more information and pricing, since I will be running the tool as well on my system.
Be social and share!