HP Discover gave us this year again a lot of exciting news and announcements of new products.
In the future I will post several 'Closer look' posts where I will dive deeper into these new features. First one to start with are the announcements made on the HP 3PAR StoreServ platform.
900K IOPS
At HP Discover in June (Las Vegas), HP announced the 7450 full-flash array. Enterprise storage features with Flash performance. The IOPS were set to 554K at 0,7ms latency. That was 6 months ago.
HP wanted apparently more. Thanks to code enhancements making use of Intel Extended Message-Signaled Interrupts (MSI-X), HP was able to grow the already impressive numbers even higher. HP claims now over 900K IOPS @ <.7ms latency. Only doing code changes… This proves again the potential power of the 3PAR hardware.
MSI-X gives HP the ability to communicate efficiently between queues and particular processor cores is handled by MSI-X. MSI-X is the next generation of MSI, which passes interrupts to a single processor core. Conversely, MSI-X provides multiple interrupt vectors, which allow multiple interrupts to be handled simultaneously and load balanced across multiple cores. This improvement helps improve CPU utilization and lower latency. The numbers are clear on this…
3PAR Persistent Ports
Persistent Ports is a feature that existed already some time, HP just enhanced it.
Persistent Ports controls path loss, controller maintenance and loss behavior on the 3PAR array.
A controller maintenance or loss is handled by 3PAR Persistent Ports for all protocols
à all server paths stay online. The server will not "see" the swap of the 3PAR port ID thus no MPIO path failover is required.
This feature is now extended to FC signal/path loss on a single controller port. So cable, GBIC or SAN switch port issues will be detected by Persistent Ports, and also here no MPIO path failover is required.
Initially this was only available for FC connections only, Persistent Ports is now extended to iSCSI and FCoE ports as well.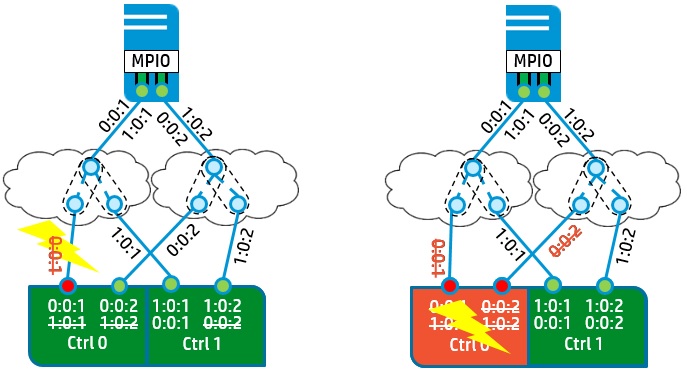 Remote Copy
The previous Remote Copy configurations were quite clear (1:4 and 2:1) but were quite limited and sometimes hard to understand due to dependencies.
With the new announcement, Remote Copy scenarios should become easier. Everything is possible! Up to 4 nodes… So we have a 4:4 relationship now available.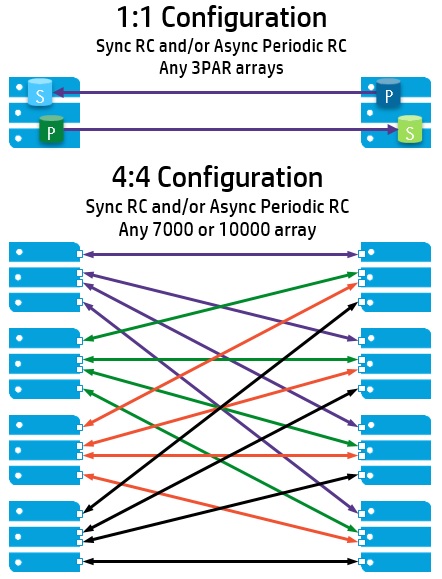 Any combination of sync and async periodic RC is now possible, based on the native IP and FC SAN-based communication between the arrays. The solution is also VMware vSphere Site Recovery Manager (SRM) and vSphere Metro Storage cluster (vMSC) certified.
Be aware that 3.1.3 is required.
Some other numbers:
–        1 RCIP link per node – up to 8 per 3PAR array
–        Up to 4 RCFC links per node – up to 32 per 3PAR array
–        Up to 6000 replicated volumes per 3PAR array
See the demo video on http://h20324.www2.hp.com/SDP/Content/ContentListing.aspx?PortalID=1&booth=66&tag=534&content=3431
Priority Optimization – QoS
Priority Optimization will assure tenant/application level QoS by assigning priorities, targets and caps inside the array.
These parameters can be used:
–        LUN performance min and max caps for IOPS
–        LUN performance min and max caps for bandwidth (MB/s)
–        Priority levels (high-medium-low)
–        Latency target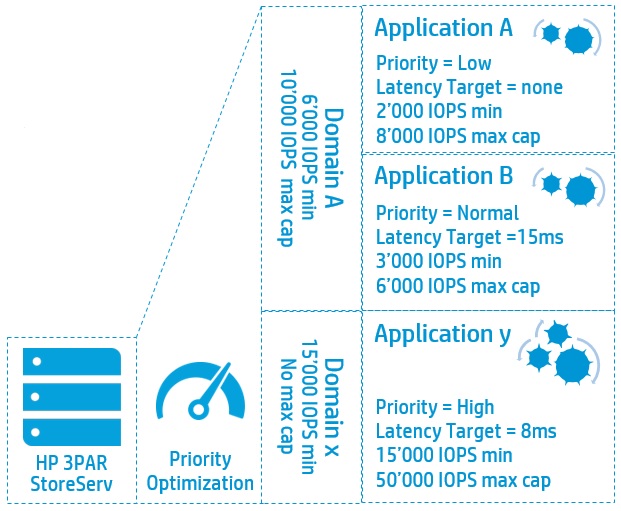 The official list of enhancements/changes:
–        3PAR OS 3.1.3
–        New 480GB/920GB MLC SSD drives
–        FIPS 140-2 certified drives: 450GB, 900GB/10k and 2TB, 4TB NL
FIPS = Federal Information Processing Standard
–        Performance enhancements due to new code for
Sequential writes
Adaptive Optimization (AO) region moves
–        Higher scalability in raw capacity, number of VV, snapshots and initiators
–        Higher Remote Copy configuration scalability
4:4 fan-in/out relationships
More Remote Copy (RC) ports and replicated VV per node and system
–        Enhanced Persistent Ports Resiliency
–        Enhanced HP 3PAR Priority Optimization
–        Various Recovery Manager enhancements
–        Virtual Service Processor now also supported on Windows Hyper-V
–        StoreServ 7000: Higher scalability in raw capacity of up to 1.1PB
–        StoreServ 7200 now scaling to 240 drives (from 144)
–        StoreServ 10000: Higher scalability in raw capacity of up to 3.2PB
–        StoreServ 10400 with double cache size of 96GB per Node
Further was there the announcement of the HP StoreFront Analytics Pack for VMware vCOPS software. Check out my blog post on it.
Finally I add some interesting links to HP 3PAR information:
3PAR Product Page
http://h18006.www1.hp.com/storage/disk_storage/3par/index.html
HP Enterprise Library – 3PAR literature, briefs and whitepapers
http://h20195.www2.hp.com/v2/erl.aspx?keywords=3PAR&numberitems=25&query=yes
HP Storage Videos
http://www.youtube.com/results?search_query=3par&oq
http://www.hp.com/go/storagedemos
Calvin Zito @hpstorageguy Blog
http://h30507.www3.hp.com/t5/Around-the-Storage-Block-Blog/bg-p/139#.UrQhCo2A2po