I had the opportunity to attend the European HP Discover event of 2013, this time in Barcelona.
This is an overview of the most important announcements made over there. In future blog posts I will dive deeper in each aspect.
STORAGE
After having announced the 3PAR 7×00 series in Frankfurt, the full-flash 7450 SSD array in June in Vegas, was the biggest announcement this week that this 7450 array was 'enhanced' from 550K to a astonishing 900K IOPS with a latency of less than 0.7ms… You can promise millions of IOPS (anyone can if you really push it to the limit), if the latency is not acceptable for the applications, business behind will remain complaining…
HP achieved this by doing enhancements on the controller code, no hardware changes were needed. This proves again the real power of the 3PAR technology… Good job!
Other major improvements were made at the other key storage product StoreOnce.
A complete new roadmap was announced based on HP Proliant Gen8 hardware.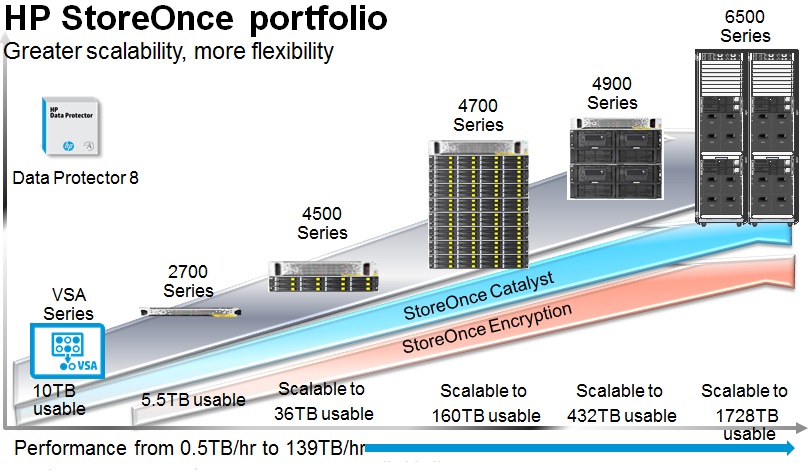 The top model StoreOnce 6500 got an additional upgrade by using denser disk cabinets so that the same capacity of the previous 6200 in 2 racks can be obtained now in a single cabinet. And the performance got a boost too with amazing numbers of 139TB/hour backup and 75TB/hour recovery performance. You can backup more data with StoreOnce in 5.5 hours where the competition needs a whole day…
Also I should not forget to mention the same hardware improvements in the StoreAll platforms. 16PB scale out file and object storage which guarantees 100.000 faster search for greater business insight. Looks promising.
Nice to see that HP is using everywhere the same underlying and proven Proliant technology in all their platforms.
More information on HP Storage can be found here: www.hp.com/go/storage
CONVERGED INFRASTRUCTURE
The other big thing on the HP Discover floor were the HP Converged Systems, a new business unit at HP lead by Tom Joyce.
The existing portfolio (VirtualSystem, AppSystem and CloudSystem) got rebranded and extended.
From now on we will talk about ConvergedSystems… Some levels and sub-brandswere created to show the difference in between: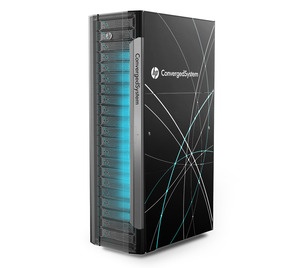 ConvergedSystem for Virtualization is a set of pre-configured and modular virtualization systems supporting 50 to 1000's of virtual machines, managed by the well-known HP management tools.
Underlying hardware is based on Proliant DL servers with VSA based storage for the ConvergedSystem 300; and Proliant Blades and 3PAR storage for the ConvergedSystem 700.
ConvergedSystem for Vertica speeds up Big Data analytics in a more efficient and performant way as the previous system.
Finally a new solution is the ConvergedSystem 100 for Hosted Desktops based on the new HP Moonshot servers. HP is going there against the trend of Virtualization and is choosing in this solution back again for Physicalization… I wrote already on my site on Moonshot, there is definitely more to come!
More information on HP Converged Systems can be found here: www.hp.com/go/convergedsystems
 MANAGEMENT SOFTWARE
Not so long ago HP released their next generation management software called Oneview. Several announcements were made after this initial version. Starting now with Gen8 servers only, in the next version also storage and network management will be done thru Oneview. So yes, your HP 3PAR and StoreVirtual will be provisioned thru Oneview to your Converged Infrastrucure. Looks promising, I will cover Oneview in detail soon on this website.
Know that this new software version is not released yet, it is foreseen in Q1 2014.
More information on HP Oneview can be found here: www.hp.com/go/oneview
As mentioned above, in the coming days and weeks I will dive further in detail in most of the highlighted topics.
I will start first to upgrade my BITCON datacenter to the new ConvergedSystem. I only need blue LED light strips in my rack. The other components I have already… 😉
Big thanks and kudo's for this great week at HP Discover Barcelona to the following fellow bloggers:
Finally do not want to forget to thank Tim Doering and Kerstin Horstmann-Popodi for the in-depth information on HP StoreVirtual. Thanks guys, love this product!