HP released the latest version 12.5 for its HP StoreVirtual family. This means the physical StoreVirtual 4000 appliances and the popular Software Defined Storage VSA platform.
Besides the typical fixes (complete list in the Release Notes – see below) we find also some important updates in this 12.5 release.
Version 12.5 includes the following enhancements:
Two-node quorum, which allows for a Quorum Witness in a two-node configuration. The status of Quorum Witness is displayed in the output of the getNSMInfo and getGroupInfo commands.
Support for iSCSI split network. Information about the split network (which network interface being used) is displayed in the getNSMInfo (NSM category) and getGroupInfo (NIC category) commands.
HP StoreVirtual VSA KVM for Red Hat Enterprise Linux 6.6 and CentOS 6.6.
VMware vSphere 6.0 support for MEM.
Support for SCVMM 2012 R2.
Quorum Witness
An important feature for me is the Quorum Witness function. Today I have (too) many discussions with my customers about the placement of the FOM (Failover Manager) which guarantees data uptime by generating quorum (majority) which keeps the iSCSI sessions active. Do we really need a third location? And do I need additional hardware? What about networking? I cannot count the customers anymore who are running the FOM on the same machine as the VSA itself. The protector running on the same machine it is protecting…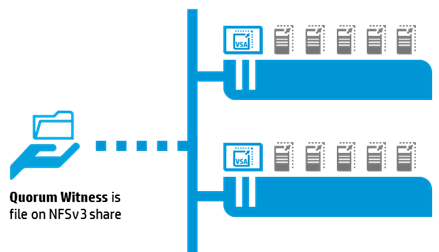 Now there is a third tiebreaker available besides the Virtual Manager and the Failover Manager.
The Quorum Witness is a NFS share (NFS V3 compliant) must be accessible by the 2 managers running on the physical appliances or the VSA's. That's it. Oh yes the latency can be maximum 300ms which is fairly reasonable… A remote datacenter is an ideal option.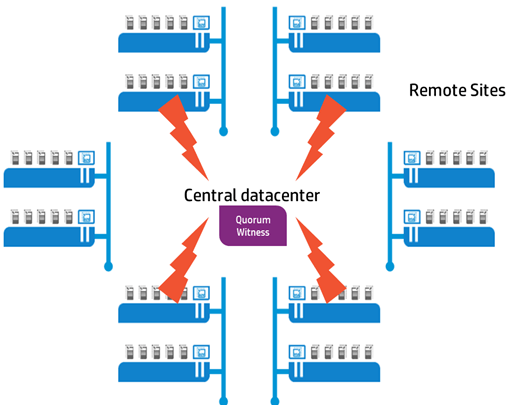 Split Network
Another 'challenge' is the networking… You have the iSCSI network with in-band management. This means the LeftHand OS traffic between managers and the CMC traffic is on the iSCSI network, which is most of the time a separate VLAN and IP range. A 'challenge' for people who do not have networking basics and cannot setup something like routing or a second virtual NIC on the production and iSCSI network…
However this is solved now as well with Split Network.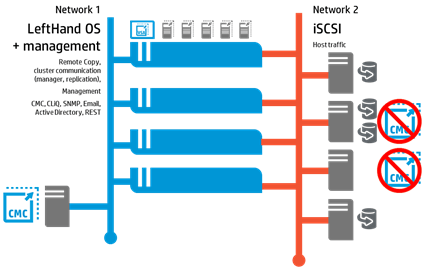 You can now specify an additional network adapter for iSCSI only, separate from LeftHand OS management traffic. This is supported on both physical appliances and the VSA line.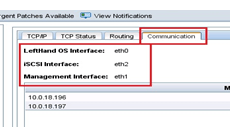 In an upcoming blog article I will write about the update process to 12.5, Split Network and Quorum Witness.
Find here the complete Release Notes document.
The software bits can be downloaded from the Software Depot or directly from the Centralized Management Console in the Software Updates section.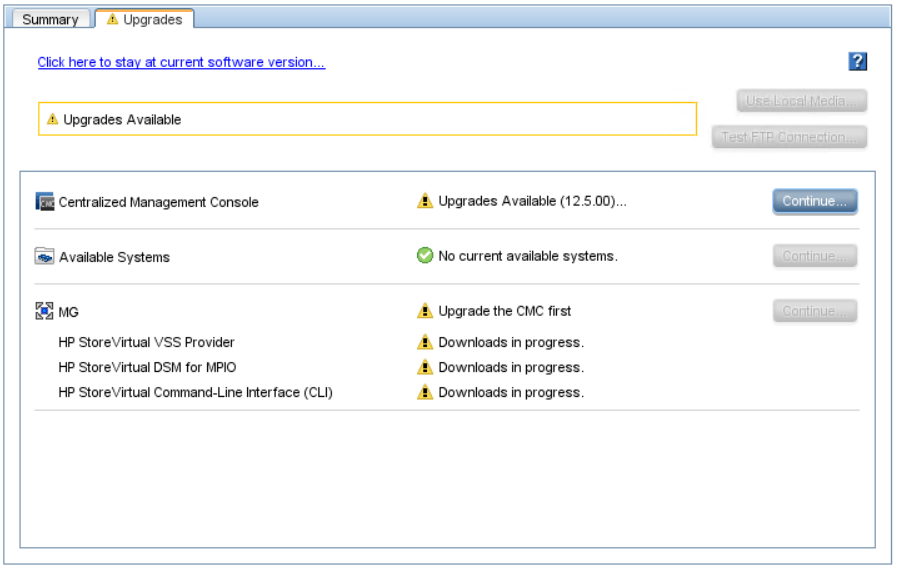 Be social and share!