HP released today its latest version of its converged infrastructure management solution Oneview 1.10.
At the most recent HP Discover in Las Vegas in June, this was one of the big announcements made.
This update release supports HP BladeSystem, HP Virtual Connect, 3PAR StoreServ storage and HP Proliant (DL) Rack servers.
The initial releases could only be installed on VMware ESXi hosts, new in 1.10 is the support for Microsoft Hyper-V as well.
Further is the biggest change the support for Storage management including provisioning. In this first release the popular HP StoreServ aka 3PAR is supported. This is possible in Flat SAN (direct attach) and Fibre Channel Fabrics solutions. The storage configuration will be saved in the server profiles.
Further changes/updates in this 1.10 version:
Fully-automated SAN zoning,
HP Virtual Connect FlexFabric-20/40 F8 and Fibre Channel (8Gb 24-port, 8Gb 20-port) modules,
HP Virtual Connect support for untagged traffic, VLAN tunneling, configurable Link Aggregation Control Protocol (LACP) timers, and other advanced capabilities,
Inventory views of Cisco Nexus 5000 switches and HP FEX modules,
Enclosure configuration from customization scripts,
Firmware updates in server profiles for HP ProLiant DL rack servers (including BIOS support for HP ProLiant DL360 and DL380 servers),
Hyper-V appliance support,
HP OneView for Microsoft System Center integration with Hyper-V cluster provisioning,
HP OneView for VMware vCenter integration with VMware vCenter Operations Manager and VMware Log Insight,
HP OneView for Red Hat Enterprise Virtualization integration,
HP ProLiant WS460c Gen8 and DL380z Gen8 Workstation support, and
Japanese and Chinese localization.
The update can be downloaded as update file for existing 1.x Oneview deployments or as a full binary.


HP released also additional software to provide the connectors with VMware vCenter Server and Microsoft System Center. These integrations were known before (in the SIM / Insight Control environment) as Insight Control for VMware vCenter and Insight Control for Microsoft System Center. These new integrations are now called HP OneView for VMware vCenter and HP OneView for Microsoft Center and can be downloaded here: www.hp.com/go/ovvcenter and www.hp.com/go/ovsc.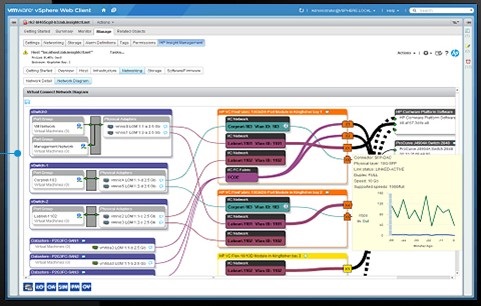 You can download the Oneview software here: www.hp.com/go/oneview/download
Release Notes and other documentation can be found here: www.hp.com/go/oneview/docs
Soon I will post a blog on the update process of Oneview to this latest version. Software is already downloading…