HP seems to maintain its role of virtualization performance champion with its record-breaking results for four configurations – 2P blade, 2P, 4P and 8P – on the VMmark 2.x benchmark.
Using the VMmark 2.x benchmark, HP ProLiant servers showcased world-class proficiency in performing common platform-level workloads such as live migration of virtual machines, cloning and deploying virtual machines, and automatic virtual machine load balancing across the data center for customers' virtualization needs.
The newest 2-host, 2-socket results on the HP ProLiant DL380p Gen8 Server with 16.54 @ 14 tiles and the HP ProLiant BL460c Gen8 Server Blade with 16.47 @ 14 tiles running the latest Intel Xeon processor technology on the VMmark 2.5.1 benchmark, outperformed all other 2-host, 2-socket rack-mount and blade servers, respectively.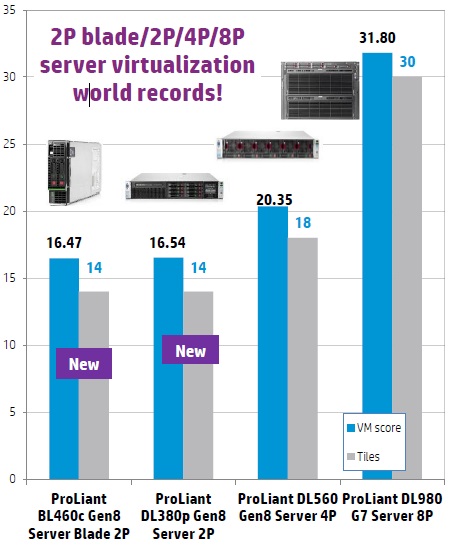 These impressive numbers were obtained by using these key components:
– HP Proliant DL380p Gen8 servers
– HP PCIe IO Accelerators, powered by Fusion-io
– ION Data Accelerator software from Fusion-io
Read all the details in this Performance Brief.