Found this great document that explains more about the challenges and used technologies inside HP Proliant servers to achieve the highest efficiency in these popular servers…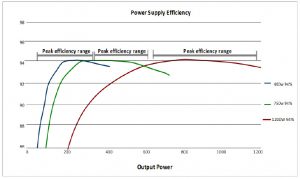 Extract:
In today's data center, any improvement in server power consumption can pay large dividends. The less power consumed by servers, storage and networking devices, the less heat generated, and the lower the losses for power distribution. This also reduces the cost of heat extraction at the end of the power life cycle. Lowering server power consumption, along with controlling that consumption, also allows you to deploy more servers per rack and still keep within a data center's overall power budget.
Beginning with the ProLiant G6 servers, HP engineers have spent a great deal of effort in research, design and development to make ProLiant servers as power-efficient as possible. They have accomplished it by rethinking and re-engineering every key element in the server platform—from power supplies to cooling technology to the monitoring and control of system processors. This technology brief describes the individual power savings technologies that we have incorporated into ProLiant servers. It also reviews the built-in ProLiant power monitoring and control functions. ProLiant power efficiency and ProLiant power monitoring and control are parts of HP's overall power management strategy that includes servers, the server rack and the data center.
Happy reading!