With HPE Discover (Madrid 28-30/11) arriving soon, HPE announced today the industry's first artificial intelligence (AI) recommendation engine designed to simplify and reduce the guesswork in managing infrastructure and improve application reliability.
HPE InfoSight is an industry-leading predictive analytics platform, thanks to the acquisition of Nimble storage earlier this year, that brings software-defined intelligence to the data center with the ability to predict and prevent infrastructure problems before they happen. Leveraging advanced machine learning, the new capabilities for HPE InfoSight pave the path toward an autonomous data center.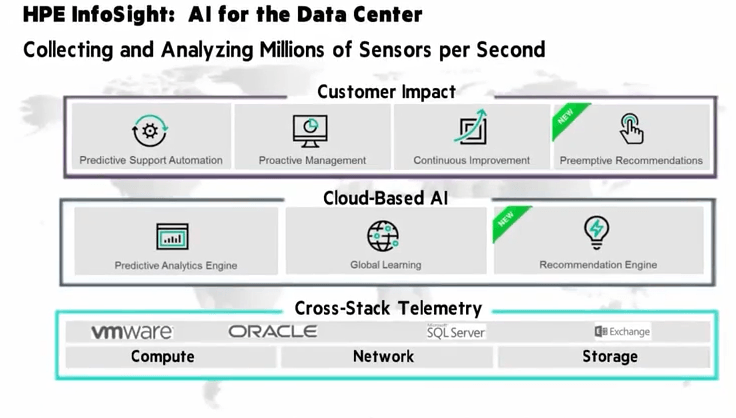 Every second, HPE InfoSight analyzes millions of sensors across the globally connected installed base and uses this data to predict and prevent problems from storage to applications. HPE InfoSight ensures reliable performance and application uptime, helping to deliver greater than 99.9999% of guaranteed availability.
This information will be used to do preemptive recommendations for your Data Center.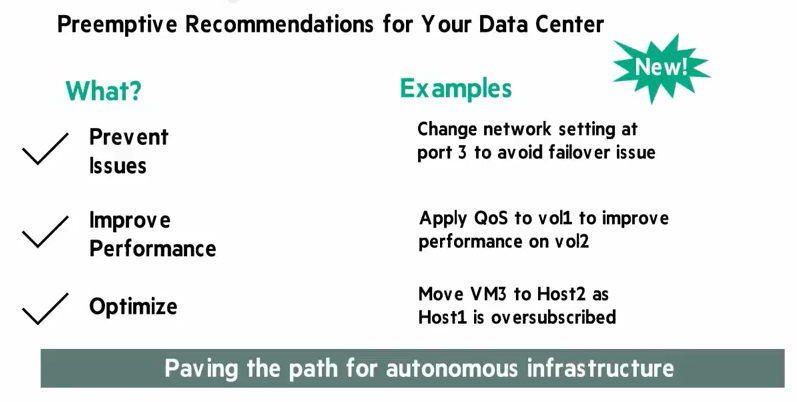 Announced as well: HPE InfoSight for 3PAR
HPE has demonstrated the unique capabilities of HPE InfoSight in HPE Nimble Storage environments, where today 86% of issues are resolved automatically before the customer knows a problem exists. By extending HPE InfoSight to 3PAR, both HPE Nimble Storage and 3PAR customers can now realize the significant benefits of HPE InfoSight.
The first release of HPE InfoSight for 3PAR makes available the following capabilities:
Cross-stack analytics. For 3PAR customers running the latest release of the 3PAR operating system2, HPE InfoSight will also provide IT the ability to resolve performance problems and pinpoint the root cause of issues between the storage and host virtual machines (VMs). It also provides visibility to locate "noisy neighbor" VMs.
Global visibility. Through a new cloud portal that combines HPE Infosight and HPE StoreFront Remote, all current 3PAR customers with systems that are remotely connected will see detailed performance trending, capacity predictions, health checks and best practice information across all of their 3PAR arrays.
Foundation to enable predictive support. Analytics and automation infrastructure are now in place that in the future will be used to detect anomalies, predict complex problems, and route cases directly to Level 3 support.
Pricing and Availability
HPE InfoSight with the new AI recommendation engine will be available January 2018 to all HPE Nimble Storage customers with an active support contract at no additional charge.
HPE InfoSight for 3PAR will be available January 2018 to all 3PAR customers with an active support contract at no additional charge. You will need to run 3PAR OS version 3.3.1 GA or later and Service Processor version 5.0.3…
More information can be found as well in this ATSB blog article by Calvin Zito aka HPEstorageguy. There is also a ChalkTalk available.
Want to know more about Nimble?
Check out my Getting Started Guide posted some time ago…
My point of view
I understand and support the HPE vision of the need delivering the Nimble support experience towards the other platforms starting with their flagship 3PAR, and probably moving on with Synergy and Simplivity. In my article earlier this year I predicted this already in some kind of way.
Remaining question is what will happen with the Nimble hardware portfolio… Time will tell.
Oh yes, AI means from now Artificial Intelligence but also Autonomous Infrastructure… 😉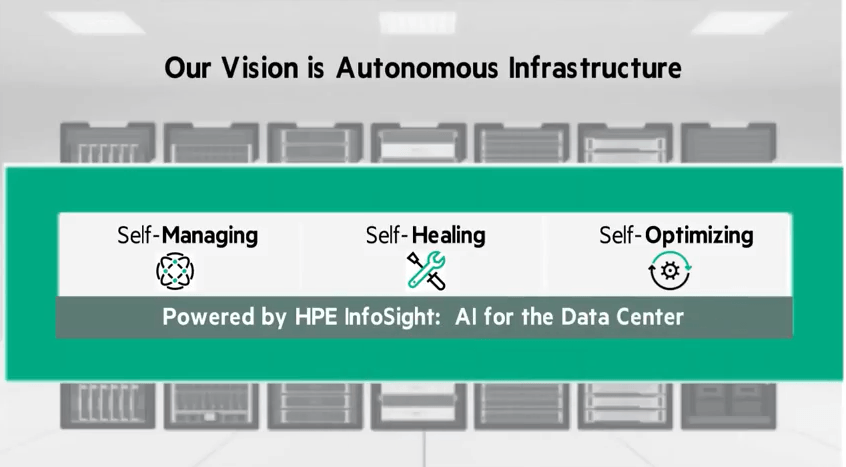 Be social and share!