HPE Discover 2015 in London started instantly with a BIG accouncement, that big that the storage announcements were done 2 weeks ago… Says enough.
Last summer at the previous Discover event in Las Vegas, HPE announced a new thing called the Composable Infrastructure…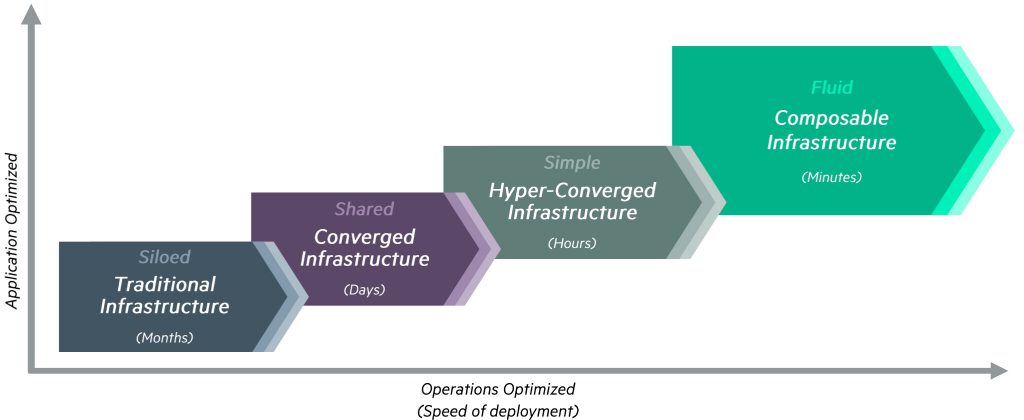 Three principles define the Composable Infrastructure:
Fluid Resource Pools: compute, storage and fabric networking that can be composed and recomposed to the exact need of the application.
Software Defined Intelligence: self-discovers and self-assembles the infrastructure you need
A Unified API: single line of code to abstract every element of the infrastructure
So far it was more a software thing with OneView in the middle with the Restfull API framework.
Now in London there is also hardware that enables the Composable Infrastructure: HPE Synergy
Picture: product manager Ray Nix explaining all the new stuff on Synergy to myself and fellow bloggers Brad Sams and Yves Mulkers
HPE Synergy 12000 frame
The first component in the Synergy portfolio is called the HPE Synergy 12000 frame. No it is not an enclosure dixit Ray.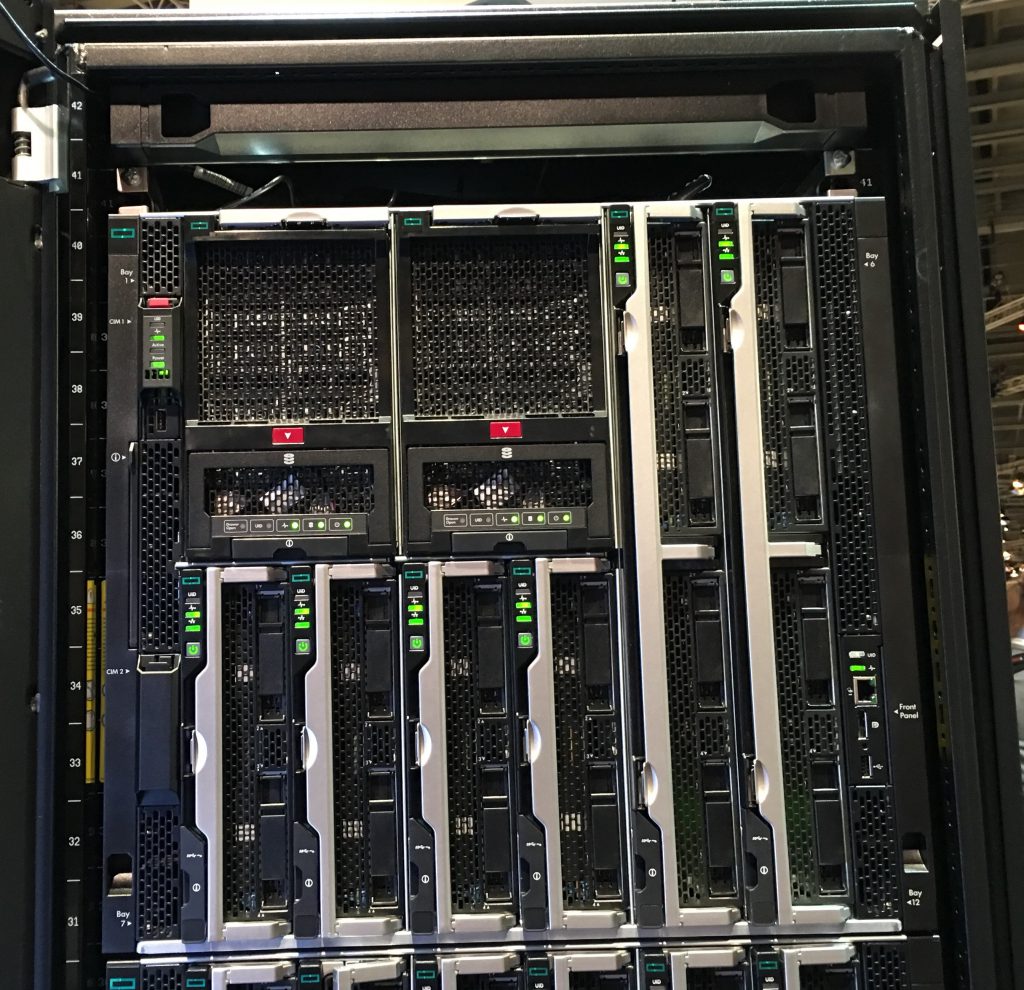 The frame is 10U high and can hold 12 Compute or Storage modules. At the back you find 10 fans, 6 power supplies and 6 I/O modules. Analogy with a C7000 BladeSystem is pure coincidence…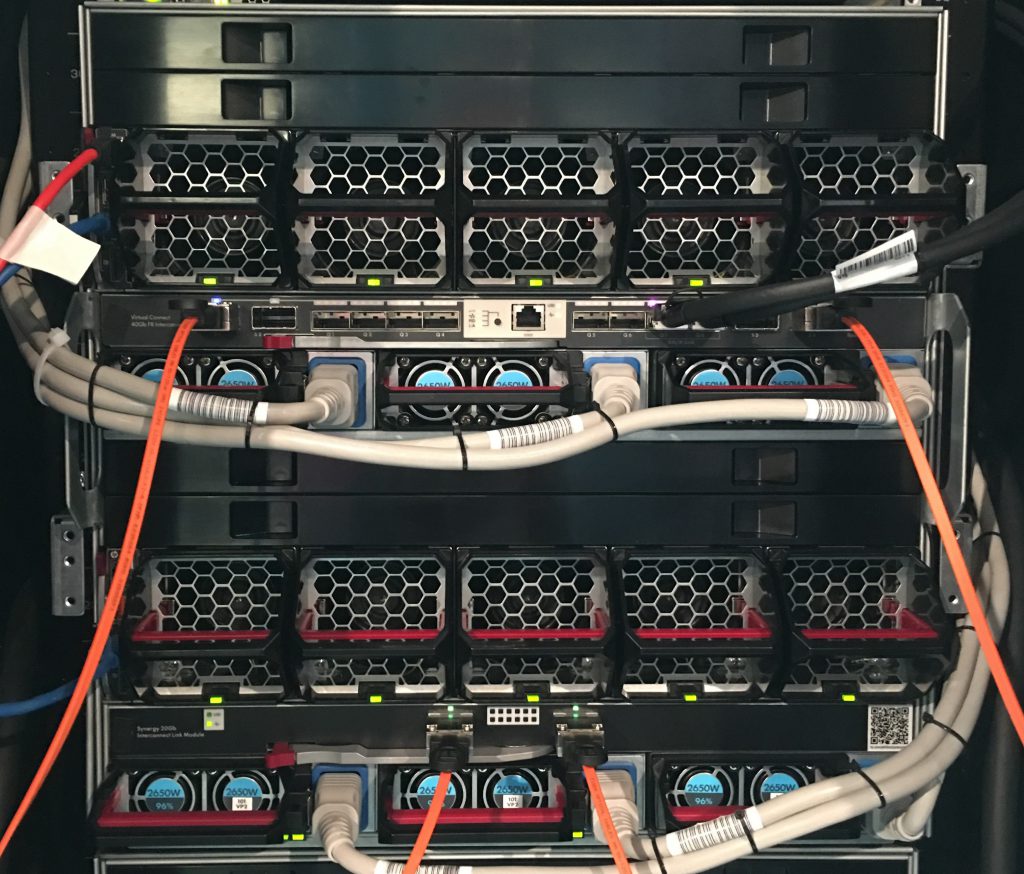 HPE Synergy Compute modules
There are a few Compute modules available at launch.
Synergy 480 Gen9 – 2 socket Xeon E5 – general purpose
Synergy 620 Gen9 – 2 socket Xeon E7 – mission critical
Synergy 660 Gen9 – 4 socket Xeon E5 – general purpose
Synergy 680 Gen9 – 4 socket Xeon E7 – mission critical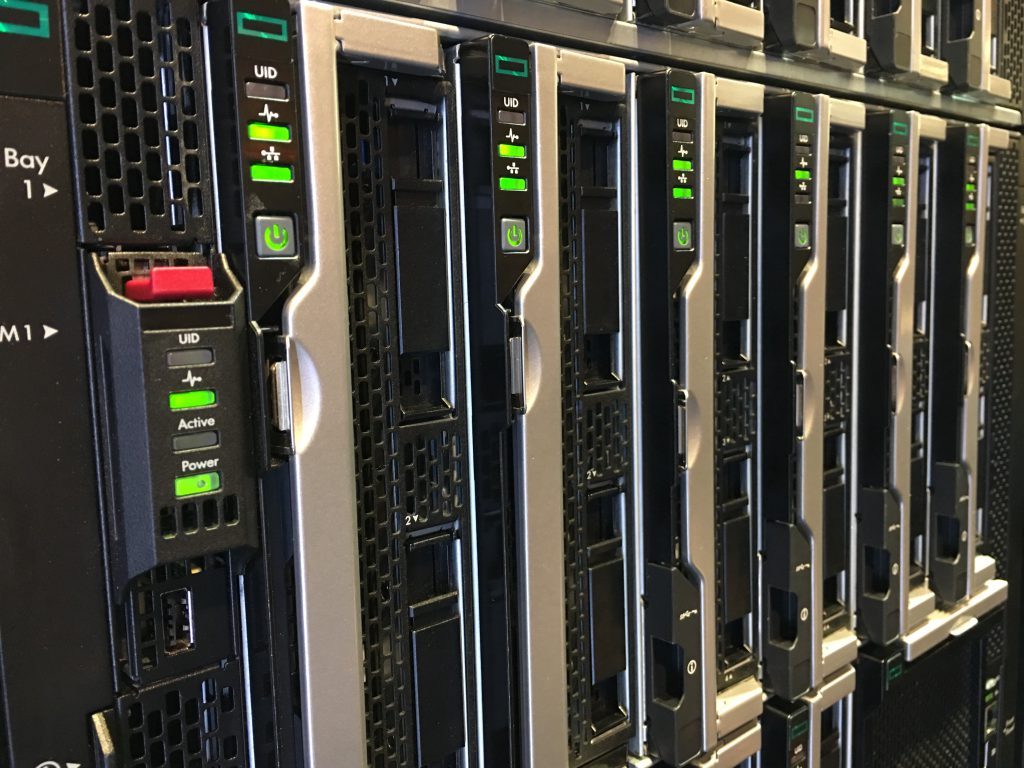 All have Smart Array controllers, DDR4 Smartmemory, ILO4 management, Sea of sensors, mezzanine cards and so on… Proven technology from Proliant servers… 😉
Several Compute I/O modules are available for 10GbE or 20GbE CNA and a 16Gb FC HBA's…
HPE Synergy D3940 Storage module
The Storage Module holds up to 40 hot-plug SFF Smartdrives (spinning media or SSD) and can be zoned to any of the Compute Modules in each frame… It is DAS storage but by using tools like VSA (Software Defined Storage) this becomes a big SAN inside the frames. The 12Gb SAS connection with the Compute module is done through the HPE P542D Smart Array controller in each Compute module.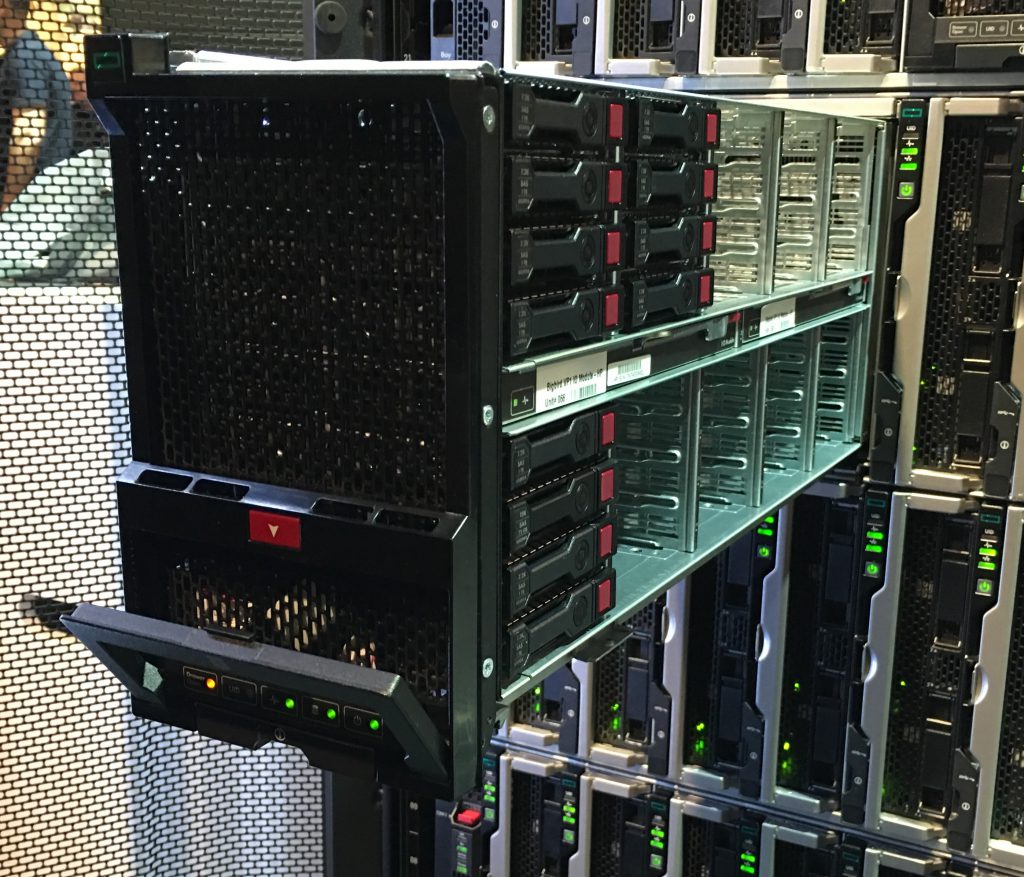 HPE Synergy Fabric modules
Compute and Storage modules are in the front, at the back is the Networking Fabric enabler being new Virtual Connect modules. First information we get here are 8 40Gb QSFP+ ports with all connections possible like FC, FCoE, iSCSI, Ethernet and so on… There are also 4 120Gb connections (the orange cables on the picture) that interconnect the various VC modules on the backend.

Besides the 40Gb F8 Virtual Connect modules, there is also a 16Gb FC Virtual connect module available for access to FC networks. For those that don't want Virtual Connect features there is also a 'regular' 40GbE switch available as well. For additional frames being connected there are also Link modules available at 10Gb and 20Gb speeds.
Management
HPE OneView Composer is a module inside the first frame that you deploy. This Composer is actually running HPE OneView inside the frame to enable Software Defined management by using templates and profiles. 2 Composer modules are needed if you gonna stack multiple frames together for high availability. With the upcoming OneView Federation you will be able to manage these frames from a dedicated, external OneView instance running inside your datacenter.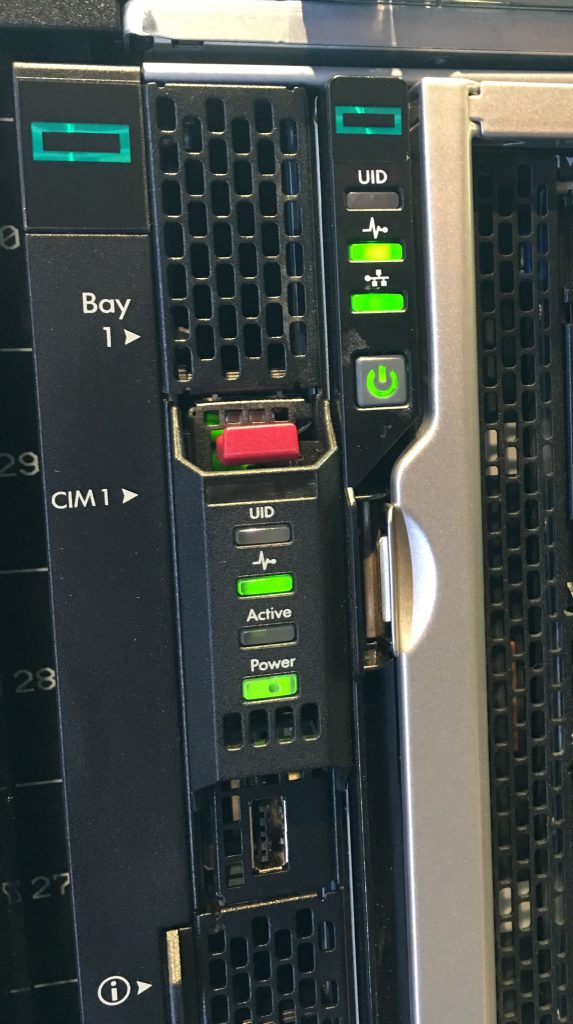 To accelerate workload deployment HPE Synergy uses a so called Image Streamer. It is a repository of bootable images that can be streamed to multiple Compute Modules in a matter of seconds by using Profiles within HPE OneView.
So everything is Software Defined from the ground up. Overprovisioning is also not applicable anymore. Just add Compute and Storage modules to grow your Composable Infrastructure.
On the HPE Discover floor was also a Synergy rack with HPE 3PAR displayed… So Synergy goes nicely together with 3PAR yellow…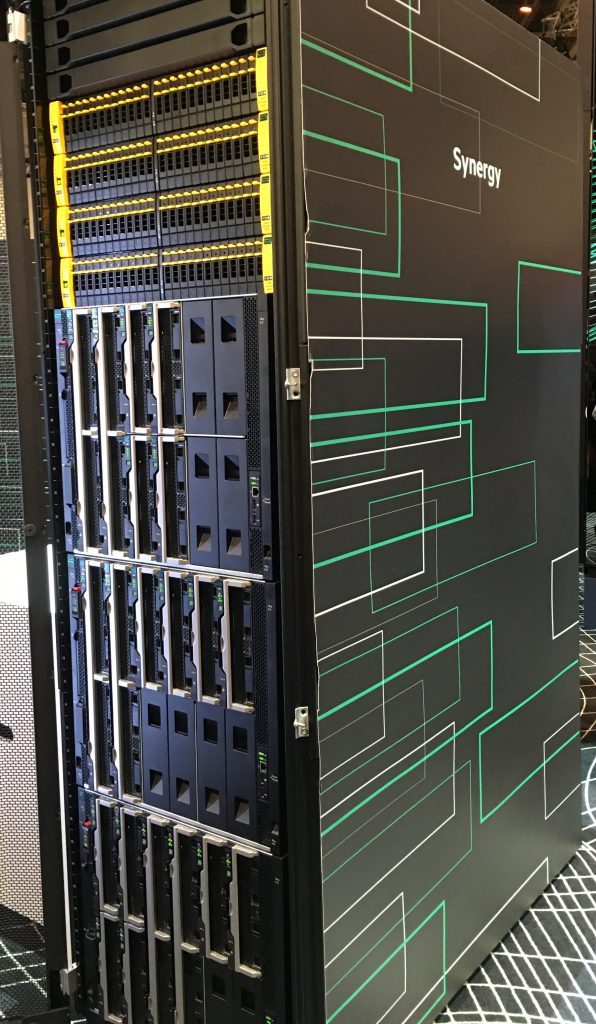 My opinion? Cool stuff, a lot of new opportunities and another reason for current customers to get started with HPE OneView! A good start for this is this website… 😉
As soon more information comes available I will update this post or write more detailed posts about the Composable Infrastructure. I still have some space in my rack in my garage so I am willing to evaluate this new platform for free… Note to HPE, you know where to find me to get the shipping address… 😉
BTW NO this is not (yet) the replacement of the C7000 BladeSystem. The C7000 enclosure had a current roadmap until 2018 with Gen10 servers some day… For my 'personal opinion' you know where to find me.
All information, with cool interactive demos can be found on the HPE website:
https://www.hpe.com/us/en/integrated-systems/synergy.html
Be social and share!