At HPE Discover in London HP announced besides the new Synergy platform also another important next step in that other new platform being HPE ConvergedSystem CS250 Hyper-Converged StoreVirtual aka CS250-HC… The platform was cool and revolutionary because of the fact that it is an all-in-one box that allows to deploy a complete infrastructure in 15 minutes… Read more about it here in one of my previous articles…
A question that I often get is if it supports also Microsoft Hyper-V. Well actually it was already if you bought the Apollo 2000 platform and installed yourself the Microsoft platform… So not the 15 minute Instant-On magic…
Until today. HP announced, besides the CS250 for VMware vSphere, now also the HPE Hyper Converged 250 for Microsoft Cloud Platform System (CPS).

Good to hear as well is that HP understood that the name (see above) was way too long, and so changed the name as well to the shorter HPE Hyper Converged 250 Systems.
Besides the all-in-one philosophy this solution has some more nice-to-haves. By adding the Windows Azure Pack on it, it allows the customers to connect directly to Microsoft Azure and move workloads from the hardware platform to the Azure cloud and back. With this it supports the new relationship of HPE with Microsoft to combine their cloud roadmap together…
From now HPE will use Azure for its public cloud offering and Microsoft will have HPE as a preferred partner for providing infrastructure and services for Microsoft's hybrid cloud offerings.
This newly announced Hyper Converged 250 System is the first real product on the market supporting this new cooperation. Microsoft CEO Satya Nadella himself was one of the guests (through Skype for Business I assume?) to announce this new partnership.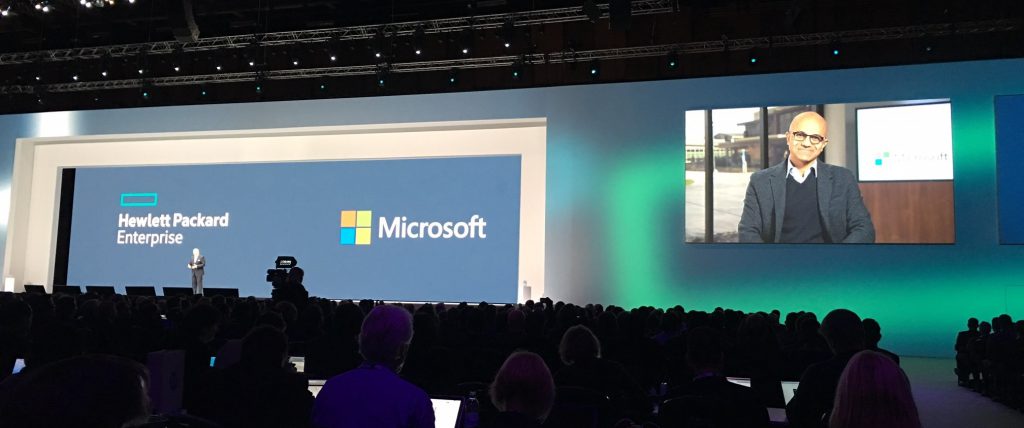 The new appliance comes pre-configured with Windows Server 2012 R2, System Center 2012 R2, Windows Azure Pack and HPE OneView Instant-On.
More information can be found on the HPE and Microsoft wesbite.
Be social and share!