HPE just eannounced its next generation of StoreVirtual products.
The current (physical) StoreVirtual 4000 platform is based on Proliant Gen8 hardware, it would be logic to move on to the current Gen9 hardware. For several reasons HPE has chosen to go for a complete new hardware platform.
This new hardware is called StoreVirtual 3200 and combines several features from the current StoreVirtual platform as well as features from the current MSA line. For instance the price is planned to be MSA-like but storage features and functionality will be StoreVirtual-like… Best of both worlds.
However! This means important changes in StoreVirtual land!
Scale-up vs scale-out
The current StoreVirtual 4000 (and Software-Defined VSA) family is a typical Scale-out platform by implementing NetworkRAID 10 across multiple (minimum 2, up to 16) storage nodes.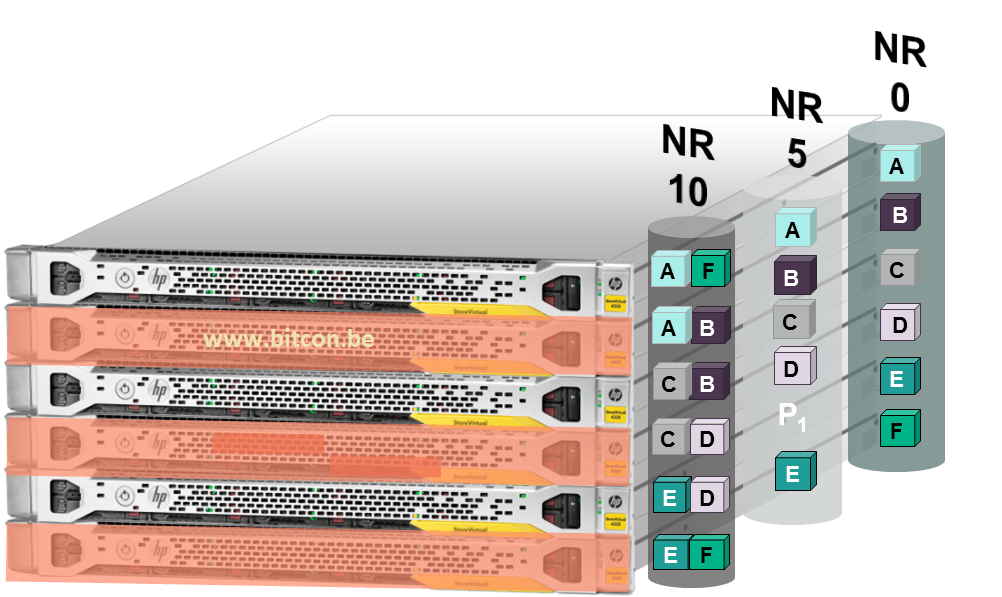 The new SV3200 storage nodes hold by default 2 controllers in 1 system, like an MSA, but with LeftHand OS running on it.
So by default the box will be Scale-up and not Scale-out.
All new hardware
This new platform looks more like an MSA, with dual controller at the back in 1 storage system. But it isn't an MSA!
It is all new hardware, completely build from the ground up. So no Proliant motherboards or RAID controllers, no ILO, all new.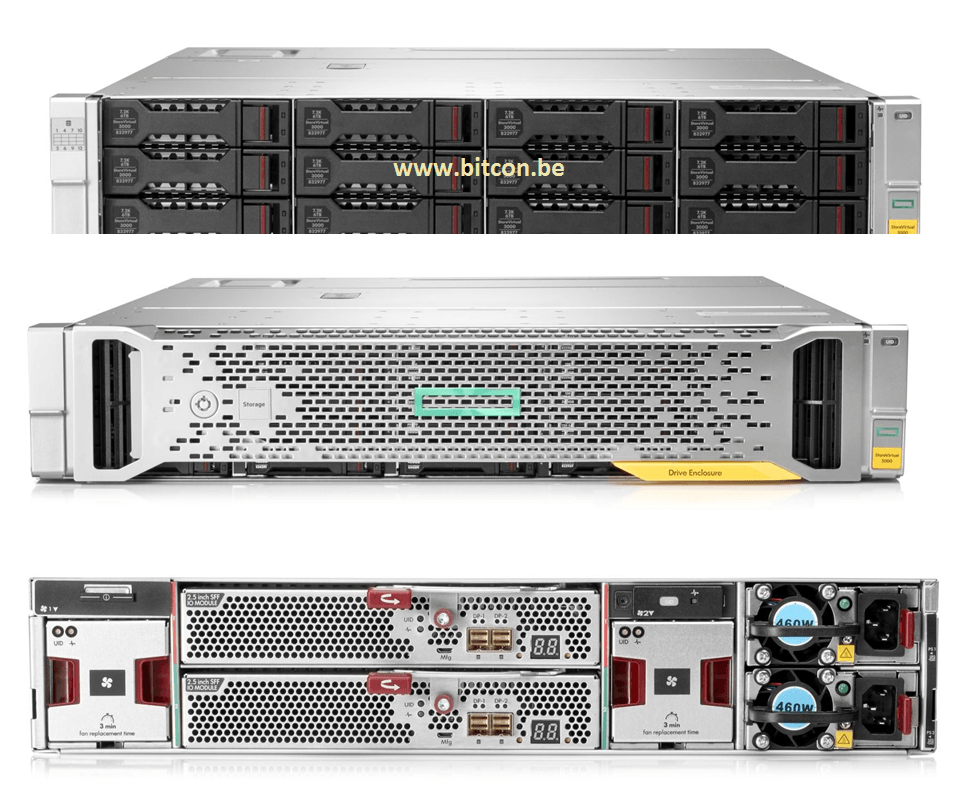 Several systems will be available at launch:
Dual controller 25 Drive SFF Array Enclosure
Dual controller 12 Drive LFF Array Enclosure
Both systems will be available with the following controllers:
4 x 1 GbE
8 x 1 GbE
4 x 10 GbE SFP+
4 x 8Gb or 16Gb FC SFP+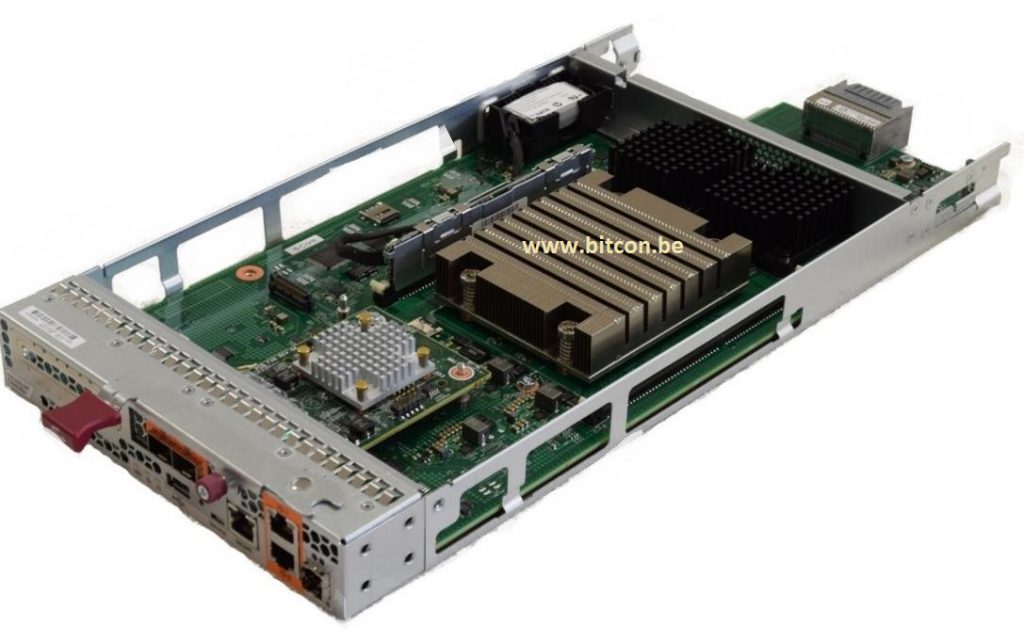 Both controllers will be running in an Active/Active configuration. Since both controllers have a unique SAS connection with all drives means that NetworkRAID 0 can be used inside a Storage Array and so will result in a lower price/GB since there is less RAID overhead (compared to the previous StoreVirtual 4000 solution which had both Hardware and Network RAID).
On the Dual Controller Array Enclosure, up to 3 Disk Expansion Enclosures (LFF and/or SFF) can be connected so with a maximum of 100 disks per storage array.
I mentioned that there is no Smart Array Controller in there. Actually the entire controller is build on a 64-bit ARM processor in combination with an 8GB NVDIMM persistent memory.
Drives and RAID configuration
The following drives will be available at launch:

Drives are sold separately, be aware that only SV3000 drives can be used. This is not a Proliant box and so no Proliant drives will work in there.
The storage system supports 2 tiers of storage. Each storage tier is configured separately.
The user will be allowed to select from pre-defined RAID configurations based on the amount of disks in the system.
Features
Some new features that will be available in the product at release:
Multiple LUNs per target
Scale-up, no scale-out yet
Remote support via STaTS (Service Tools and Technical Service) like 3PAR and StoreOnce
Web-based management interface (so no CMC anymore)
RESTful API support
Remote lights out management with haLO (so no ILO)
12G SAS
Besides that existing features from the current StoreVirtual product will be available as well:
Adaptive Optimization support (2 tiers of storage)
Network RAID 0 and 10
Thin Provisioning
Space Reclamation
Recovery Manager
VSS and SMI-S integration
Online upgrades
Management
As mentioned before the good old CMC (Centralized Management Console) is replaced by a new modern web-based management GUI. For those who know 3PAR SSMC and OneView you will be quite comfortable with this one as well.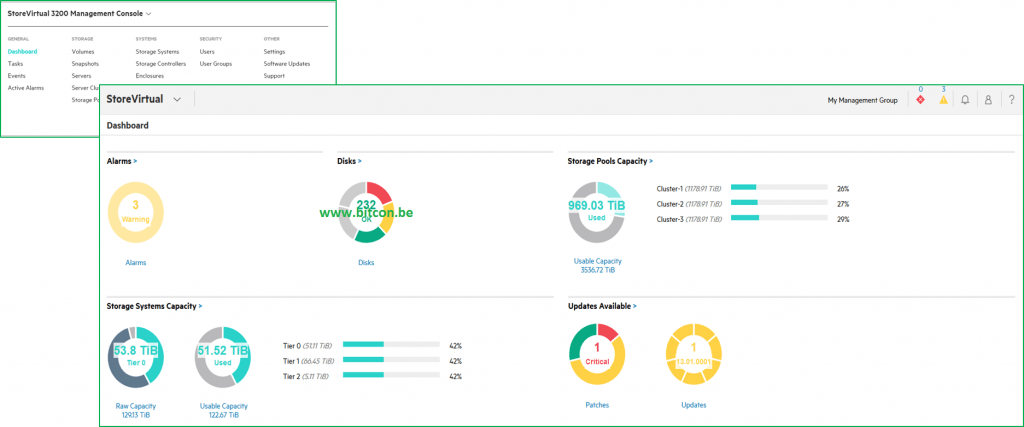 I mentioned as well the integration with STaTS. This means you will be able, just as with 3PAR today, to follow up your StoreVirtual 3200 with StoreFront Remote, the Cloud-based storage monitoring platform. Some time ago I wrote an article as well on this tool.
Terminology
In the current CMC you will setup a StoreVirtual configuration by creating a Management Group, followed by a Cluster and finally one or more volumes…
In the StoreVirtual 3200 series, you will see some kind of Management Group but these will be deemphasized. From now on a Storage Pool will become the preferred terminology.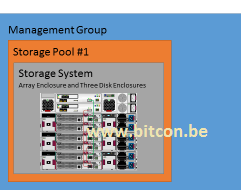 A Management Group will be used only when you have multiple Storage Pools (and so multiple Storage Systems) replicating with each other which will be some kind of Scale-out which is anyway a feature for the (near) future.
Further we will talk about Array and Drive Enclosures with their Storage Controllers and I/O modules.

Licensing
One thing where the best of both worlds does not work is the licensing. So far the StoreVirtual line was an all-included licensing product.
In the new StoreVirtual 3200 line there will be some licenses available compared to the MSA line.
So there will be a Replication Suite with Remote Copy across several StoreVirtual 3200 arrays.
Further there will be a Data Optimization Suite to enable tiering.
An All-Inclusive Suite will bundle both suites mentioned above.
Data Migration
One important thing to know is about data mobility.
Since the page size from the StoreVirtual 3200 has changed to 4MB (previously 256KB). This means Peer Motion will not work from previous generations StoreVirtual to the new 3200 platform.
A tool called Online Import Utility will be provided to migrate data from a P4000 and/or VSA solution to a StoreVirtual 3200.
I plan to write a How-To article soon about the setup and configuration of the StoreVirtual 3200… Keep following my blog!
My good friend Calvin Zito has a great Chalktalk ready as well on the new StoreVirtual 3200. Watch it here!
Be social and share!