Ever since Meg Whitman announced at HP Discover in Las Vegas that the HP.com website was running on Moonshot, lots of people were surprised and curious of how this is possible…
Those tiny little server cartridges?
Besides the typical marketing stuff like "80% less space, 89% less energy and 77% less cost", the following numbers make it even more impressive: the whole HP.com website runs on the energy equivalent to a dozen of 60W light bulbs!!!
Well, it pulled my interest too and started some research on what Moonshot actually is and how/where it can be used.
An introduction:
Some people compare it with a next gen blade enclosure. They share some functionality like common power supplies, cooling and I/O… But there the comparison stops.
Hardware
The 'enclosure' in a Moonshot system is called a chassis. It is a 4,3U form factor capable of housing 45 individually serviceable hot plug server cartridges (and not blade servers).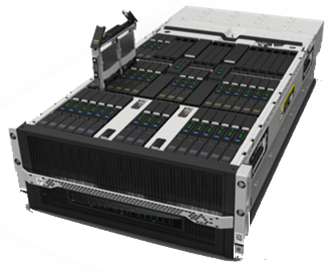 It has integrated chassis management through the Chassis Management Module (center – middle) , as well as integrated and redundant power (bottom – common slot power supplies) and cooling (top – 5 hot plug fans).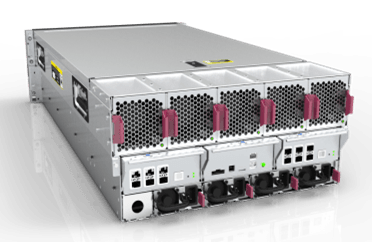 The chassis also houses up to two internal network switch modules to provide redundant network connectivity to the cartridges. These internal network switch modules are then connected to two uplink switch modules that provide network communication between the cartridges and the external network.
The currently available switch supports 45 1Gb downlinks, and through the Moonshot 6SFP Uplink Module Kit, 6 10Gb uplink SFP+ ports are available. Off course 2 of these modules can be found in the chassis for redundancy and high availability.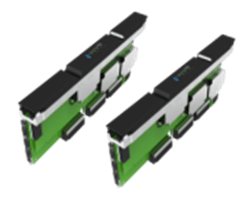 Finally, up to 45 server cartridges can be inserted in a single chassis. Three types of cartridges will be released:
– Compute cartridges
– Storage cartridges
-Compute+Storage cartridges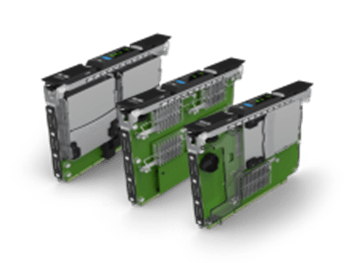 The first released HP ProLiant Moonshot Server is equipped with a dual-core Intel Atom S1260 processor, 8GB memory, dual 1 Gigabit Ethernet networking and an SFF SATA disk drive. The processor is fully x86 compatible, ensuring binary compatibility with existing x86 applications.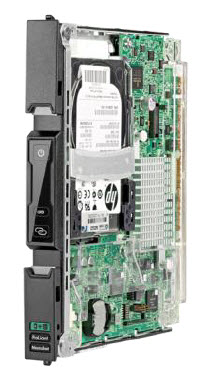 Other cartridges will be available later.
One cartridge that will show the full power of the Moonshot concept will be the 4SoCs cartridge meaning 4 independent servers on 1 cartridge or 180 servers in 1 chassis or more than 1000 servers in a single rack!
Another (obvious) new module will be a 10Gb downlinks switch with probably 20Gb or 40Gb uplink (this is my assumption, not HP official information).
On Soc (System on Chip) level will there be a variety of chips from ARM, x86, GPU's, DSP's and FPGA's and other manufacturers.
Where to use
The currently available models are ideal for the following situations:
– Single application at scale
– Low CPU utilization
– Low-cost, dedicated server per user (dedicated hosting, development environments)
– Low power, distributed workload architectures
The current solution is not ideal when you want these features (today, might change in the future with new cartridges??):
– Running multiple applications on 1 server
– Heavy use of virtualization
– Need Fiber channel or SAN connectivity (unless iSCSI)
– Running very high CPU or memory intensive applications
Due to the fact that no video card is available, it can be a challenge to install Windows on these servers…
Today these Operating Systems are supported: Canonical Ubuntu, Red Hat and Suse Linux 64bit. Also this will be extended probably with the release of new cartridges…
More information on Moonshot can be found on its dedicated website: www.hp.com/go/moonshot
Datasheet : PDF
Quickspecs : URL
Information Library: URL
Reference Configuration Static Web Hosting : PDF