With the release of the latest firmware code GL220, the MSA 1040 gets a serious performance boost with the added SSD support. So far SSD support was only available on the MSA 2040.
MSA 1040 gets SSD
Now the entry level MSA 1040 gets the ability of all virtualization features that were available only on the MSA 2040 with the release of the GL200 firmware somewhere 1 year ago… Read more about this in this article I wrote.
Now all virtualization features like SSD Read Cache and automated sub-LUN tiering are available as well on the MSA 1040 with the Virtualization license that was already there with the GL200 upgrade.
The main difference between the 1040 and 2040 will be the scalability of 99 versus 199 disks connected, and the amount of ports available per controller (2 versus 4).
MSA 2040 on steroids
Also the MSA 2040 gets a performance boost with the latest GL220 code (actually it was already there in GL210). First tests show a 44% faster read and 20% faster write numbers. And this only with a firmware upgrade. More than 100k IOPS for an entry level SAN, not bad!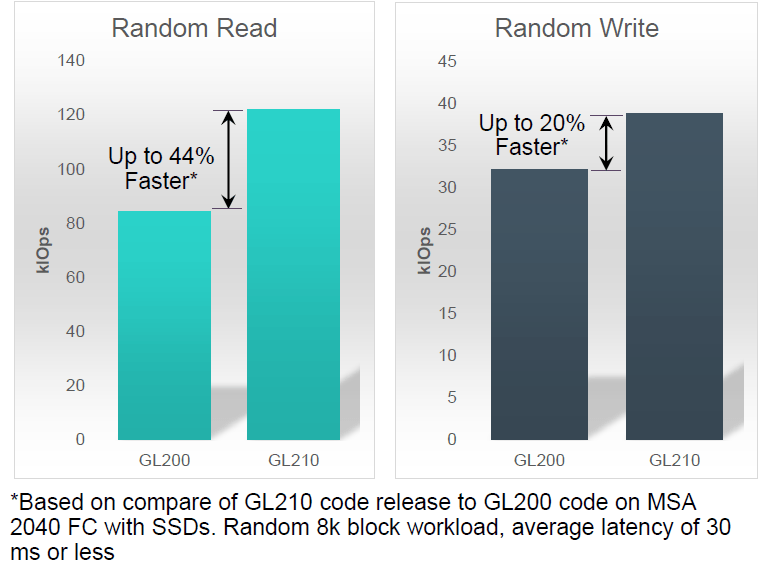 The software can be found on the usual HP Support pages… Or click here.
You know what to do: upgrade time! How to do it? Check out my HowTo section on this website…
Be social and share!