Besides all the storage announcements at HP Discover, I was also very interested in the OneView news. The current release 1.20 was a big step forward introducing the new 'free' monitoring version and some other cool stuff, I was curious about what would be next… Well actually it was worth waiting… 
So what was announced:
Server profile templates
Server profile templates provide a new powerful way to update and maintain your existing infrastructure. HP OneView simplifies 1 to many update & management of server profiles with templates. This feature adds inheritance to HPOV templates where BIOS settings, firmware & driver updates can be made in the template and then propagated out to the profiles created from that template.
Items that can be updated from template include:
Firmware baseline
BIOS settings
Local RAID settings
Boot order
Network configuration
Shared storage configuration

OS Drivers & Firmware update
Today HPOV provides offline firmware update in V1.20 with the SPP (Service Pack for Proliant) Firmware baselines.
This new feature of HP OneView will add driver (new) and firmware update in an online/staged fashion. This enables you to deploy software down to the target (staged) and then have the drivers and firmware installed/activated at next reboot
The HP Software Update Tools utility (new) is required to be installed on the target node. It is a simple utility that runs as an OS service and supports Windows, Linux and ESXi (in a hosted fashion).
As soon as the 2.0 code is there, I will write a post on this one in particular since I have high expectations of this.

Server Profile Mobility
Server profiles in V1.X provide limited mobility across same server hardware type and the same enclosure groups. You could not use a server profile from a Gen8 server on a Gen9, not even a Gen8 server without mezzanine card on a similar Gen8 server with mezzanine card…
In this new release, HP OneView will provide profile mobility across:
Different adapters
Different generations
Different blade models
In addition profiles can be migrated across enclosure groups with
Different adapters
Different generations
Different blade models
Manage multiple local volumes
OneView has added the support for Smart Array HBA mode. In this mode, physical drives are directly presented to the server Operating System – no logical drive configuration is possible.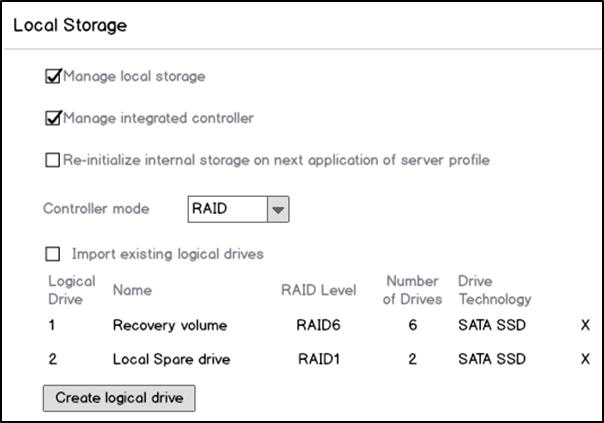 To take advantage of the four drive bays in the ProLiant BL660c Gen9, OneView has added support for multiple logical drives and the RAID levels – RAID 10, RAID 1 ADM, and RAID 5 – that can be supported with up to four physical drives.
New Virtual Connect features
Several new features related to Virtual Connect were added.
VC Parity Dual Hop FCoE Support This feature will now allow FCoE traffic egress out of the enclosure to external bridge device which will handle the conversion of FCoE to FC traffic. This feature will also support up to 32 FCoE networks (i.e. 32 VLANS) and FCoE on 40Gb FCoE uplinks of the FlexFabric-20/40 F8 module. Together with enhancements around automated storage provisioning on FCoE SANs, OneView is now able to provide definition and provisioning of storage volumes, automatic SAN zoning as part of the provisioning process, and volume attachment to server profiles. All of the over end-to-end FCOE.
VC Parity Quality of Service Priority Queuing QoS is used to provide different priorities for designated networking traffic flows and guarantee a certain level of performance through resource reservation. QoS feature introduces the ability to configure traffic queues for different priority network traffic, categorize and prioritize ingress traffic and adjust DOT1P priority settings on egress traffic. Administrators can use these settings to ensure that important traffic receives the highest priority handling while less important traffic is handled at a lower priority.
VC Parity Partially Stacked Domains Provides air-gap separation between Ethernet fabrics and eliminates need to stack interconnects within the enclosure.
Update Logical Interconnects with minimal downtime This provides additional FW update orchestration options for VC interconnects in c7000 including odd/even orchestration with minimal service outage. This was possible already with the VCSU utility outside HPOV.
Migrate Legacy VCM Domains to HP OneView Allows current VC customer base to benefit from the advanced capabilities of HP OneView. Eases the transition to OneView with less effort and human errors.
Enhanced Monitoring support for Cisco Nexus 5K/6K & B22 FEX support OneView supports Nexus 5K/6K and B22 FEX as Read only with no configuration changes and no firmware updates. It display physical switch information for model, chassis ID and IP address, Firmware version, Health and vPC information. OneView also display physical port information including Interface ID, type, status, speed, LLDP data and Connector information. OneView also collects statistical information for Tx/Rx packets and bits, Port Errors, Queue drops. FEX health events and port state changes are mapped to actionable OneView Alerts and FEX topology is shown in map view. Network availability is detected and modeling for consistency across server edge and ToR switch.
New Storage features
Volume snapshots With HPOV 1.x you could create and assign 3PAR volumes already to server profiles, now you can also create snapshots & clones from these volumes.

SAN connection health monitoring All SAN resources are now immediately exposed in the topology map. This includes multi-hop fiber channel and FCoE architectures. Proactive alerts are provided where the expected and actual connectivity and states differ and the SAN health issues are immediately visible in the topology map. Another new feature in 2.0 is the addition of SAN configuration reports. These alert reports include guidance to make your SAN more efficient and to help resolve potential SAN issues before there is a business impact.

Increased Ethernet Convergence with FCoE storage New in 2.0 is broad support for both Fiber Channel over Ethernet architectures as well as multi-hop mixed FC and FCoE architectures. We have also added support for Cisco MDS and Nexus switches. For the latest list of supported devices always refer to the HP Single Point of Configuration, or SPOCK. This broad support for most SAN architectures means that now users can unlock the power of 3PAR StoreServ storage automation with HP Oneview.
Supported Environments

Virtual Connect
Virtual Connect FlexFabric-20/40 F8 Module
Virtual Connect FlexFabric 10Gb/24-port Module
Virtual Connect Flex-10/10D Ethernet Module

Initial switch support

Nexus 55xx and Nexus 6K
HP 5900CP/AF and HP 5930-32QSFP+

Initial storage array connectivity certification

3PAR 10K and 7K family
XP9500
EVA 63xx/65xx
MSA 2040

Switch and Storage Array support
Integration with HP vPV Virtualization Performance Viewer
I wrote already some time ago about a cool HP Software product called vPV URL. Meanwhile a newer version was released and gets now tight integration with HP OneView 2.0.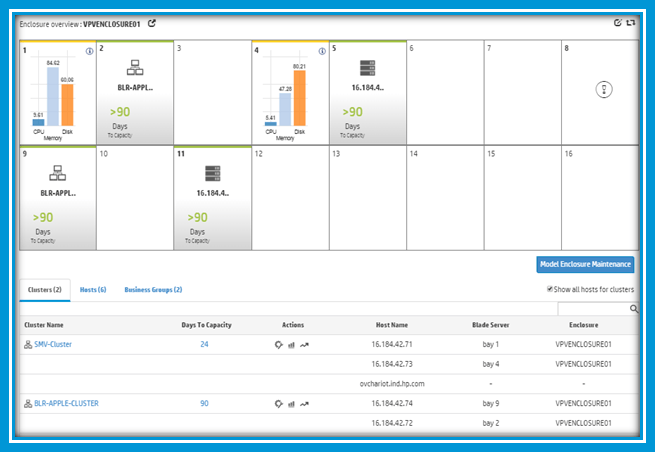 The biggest value propositions of this product are its performance management and capacity modelling and optimization capabilities. vPV can "Sense" through smart alerts. And with its ability to analyze performance metrics, it is able to identify hotspots and reduce the number of bottlenecks.
It has the "What-if" modelling feature that allows the administrator to simulate real-life scenarios to determine impact and asses risks to his infrastructure. The recommendations from vPV enable you to forecast the capacity needs, optimize the infrastructure and mitigate possible risks.
Like OneView, vPV can be deployed as a virtual appliance in less than 15 minutes. It can also be installed on Linux nodes to support multiple environments. The REST APIs allow deep integration and cross launch into HP OneView to carry out actions like provisioning.
Once I get my hands on this new software, I will try it out and post all my findings here.
Enhancements to the Dashboard and Details panes
Throughout the GIU HP made several adjustments so that you get an even smoother navigation experience and get more information in a streamlined way of browsing.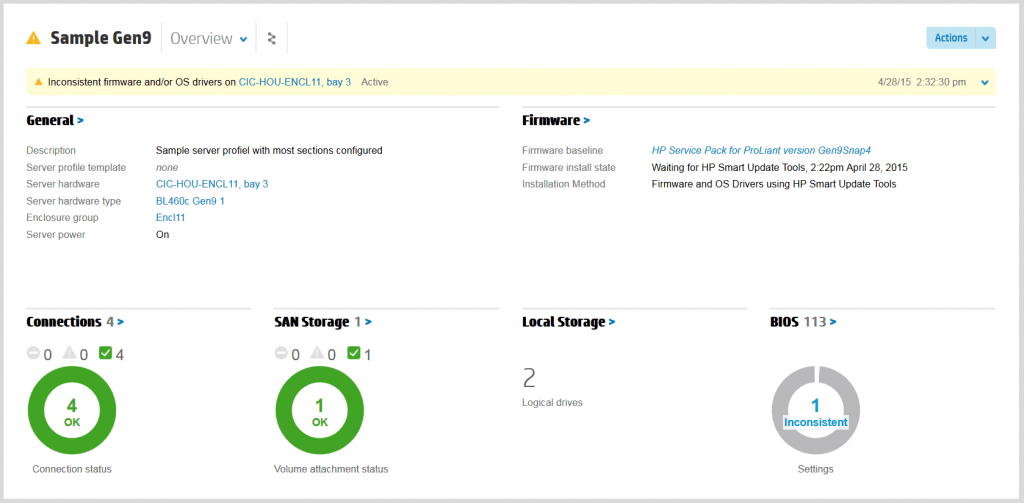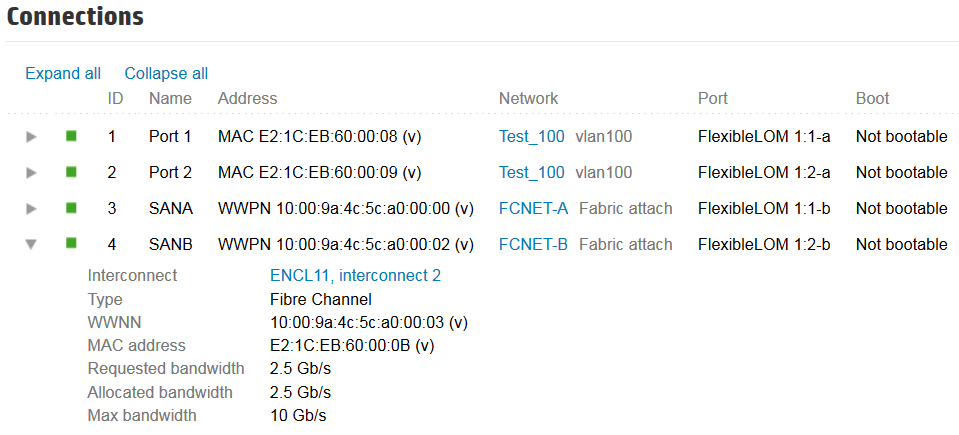 The details were announced at HP Discover Las Vegas, the bits will be available in September… Keep following my website and Twitter account for the latest updates on this…
For all general information on OneView, check out my website or go to www.hp.com/go/oneview
Be social and share!