Some time ago VMware decided to put an expiration date on their certifications, being 2 years…
This means for most VCP certified people that their VCP4 and VCP5 certification expires in March (mine was the 15th).
With vSphere 6 announced I thought I would go directly for VCP6 right? Well not really…
Since the certification for version 6 is not there yet, this would mean that I would lose my certification in March and so would need to do the full track again, including following the entire training, to get the new certification…
So this means I needed to pass the exam on VCP5 again, the one I did somewhere in 2012 already. Grrr…
For this case VMware created a Delta exam specific to 5.5… And you can do it at home, don't need to go to the Pearson testing center… Handy…
Well I passed the test yesterday successfully. It was quite challenging. But fair… I must admit I have put quite some preparation time in it, every evening some hours for the last 3 weeks… Always good to refresh your VMware knowledge.
I expected to have a lot of questions on differences between 5 and 5.5, which was not really the case…
Most questions are specific situations like what the administrator needs to do in a specific case or a specific configuration setting, in 5, 5.1 and 5.5.
The only warning I can give you is: read the question. And read it again… And maybe a third time… Just like in HP ExpertOne exams I see often a lot of side information which is sometimes relevant but most of the time not important…
Another nice example to get confused is types of port binding and port allocation settings… Was it static, dynamic, flexible, elastic, fixed,… ? Stay focused! 😉
Action time! You have some short time to update, go and pass the Delta exam… Currently even for a discounted price, at home… Just do it!
Start here by requesting authorization:
http://mylearn.vmware.com/mgrReg/plan.cfm?plan=51919&ui=www_cert
On the same page download also the Exam Blueprint documentation… Could be handy!
I hope you get the same message as me: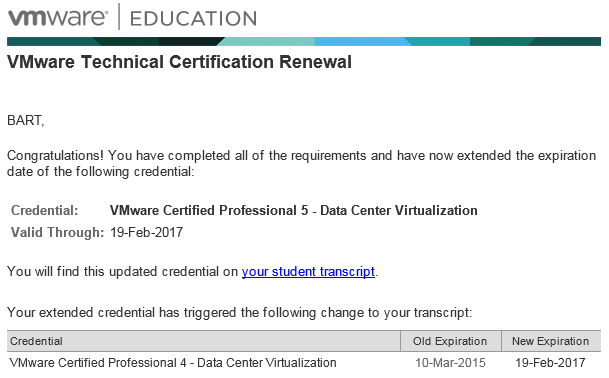 Good luck!
Be social and share!