A few weeks after the release of HP Oneview 1.0, the new 'converged' management platform for the HP converged infrastructure, HP released today the first update to the platform version 1.01.
– Active Directory integration now supports additional search contexts. HP OneView version 1.0 was limited to a single search context which is extended in version 1.01.
– Resolved issues in the Interconnect Management section.
– Minor updates and 'undocumented features' fixes

You have the option to download a upgrade file (1,39GB, 1.0 required) or the complete full binary file for a new installation (6,27GB)
For more information about this release, refer to the HP  OneView 1.01 Release Notes at www.hp.com/go/oneview/docs.
The software can be found on the HP Oneview section of the HP Software Depot.
Update is fairly simple and straightforward:
1. Download the.bin image file from the HP Software Depot (https://www.software.hp.com) to your local computer.
2. Log in to your appliance and select Settings/Actions/Update appliance.
3. Move the .bin file to the appliance UI screen either by dragging and dropping or browsing to it.
4. Click Upload and Install to start the update process.
5. You're done!
Just did it on my Oneview installation in the BITCON datacenter, all went fine…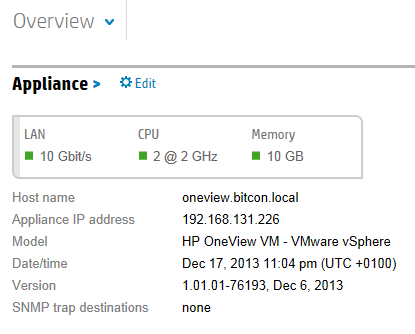 Happy updating!