Yes there is Moonshot again. I wrote already about it a few times on this website, where I was saying that I see a lot of potential in this new technology.
Statements like 80% less space, 77% less cost and 89% less energy are things you cannot ignore.
Well, with the latest announcements in December 2013 at HP Discover in Barcelona, it is indeed settings new boundaries in the server market.
Where virtualization is becoming more and more familiarized in the SMB and Enterprise environments, HP states that not all applications and workloads are ideal for virtualization…
Let's say sometimes it is better to go for 'physicalization' in this virtual world.
HP proves this with the release of 3 new cartridges for the Moonshot platform:
Proliant m300 Server
The m300 cartridge is a follow-up for the first generation of Moonshot cartridges based on Intel's low-energy Atom processors.
Each cartridge features a single Avoton system-on-a-chip, with eight cores, up to 32G of RAM and a SATA  drive  with up to 200GB (SSD) or 1TB (HDD) storage capacity. "It has a six or seven times performance increase," said Paul Morgan (HP Hyperscale business manager ISS), while the previous module is not being phased out.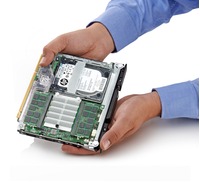 HP places the m300 server cartridge as the ideal replacement for legacy RISC/UNIX and older Proliant XEON based servers in the web hosting environment. Moonshot allows the replacement of a 45U rack with 1U servers by 1 Moonshot enclosure with 45 cartridges. Impressive numbers of lower power, space and cabling requirements, resulting a 24% TCO reduction.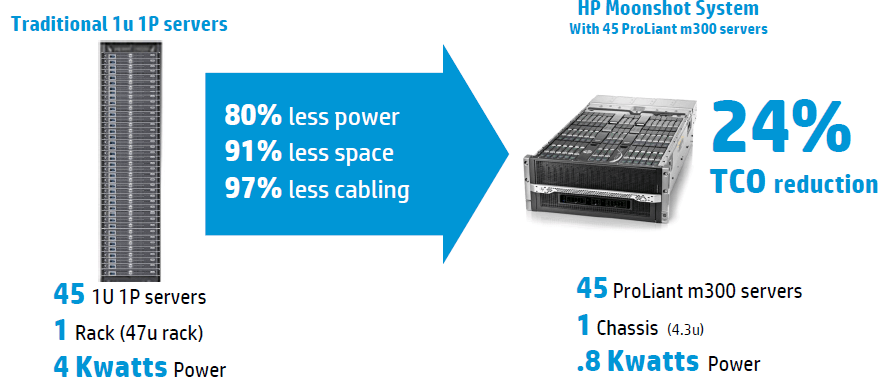 Proliant m700 Server
The m700 cartridge features 4 64bit AMD Opteron-X chips, four cores each, with integrated Radeon graphics. Each chip has its own DIMM memory slotted at the back of the module.
By using the m700 server cartridge, HP promises a full-powered desktop experience for each user, with independent compute and graphics power. The first PC-on-a-chip for the datacenter. With the m700 cartridge, up to 1260 hosted desktops can be delivered in 1 rack giving a TCO reduction up to 44%.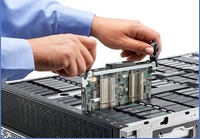 HP claims with the m700 cartridge the grey zone between the VDI world and the graphics accelerated VDI environment based on blade servers. In between HP calls this the right place for HDI being Hosted Desktops Infrastructure.

Proliant m800 Server
The third new cartridge is the m800 server which will be equipped with an ARM based TI-designed digital signal processing (DSP) chip and is mainly intended for telecoms applications.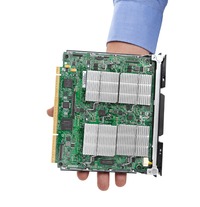 HP ConvergedSystem 100 for Hosted Desktops
The proof that HP really believes in this new platform is the launch of the HP ConvergedSystem 100 for hosted desktops.
1 Chassis, 45 cartridges, 45 iSSD mezzanine cards for local storage, 360x 1Gb downlink ports and 8x 40Gb uplink ports will deliver 180 unique machines running Windows 7 or 8.
Morgan indicated that one four-processor cartridge could support up to 180 desktops, and there is room for 45 cartridges in a standard Moonshot rack. That is scalability!
Remember that HP decided already some time ago to put the www.hp.com and ftp.hp.com entirely on 42 cartridges in all their datacenters… 300M hits per day on 6 Cache, 16 HTTP and 16 Download servers, using 89% less space and 94% less power.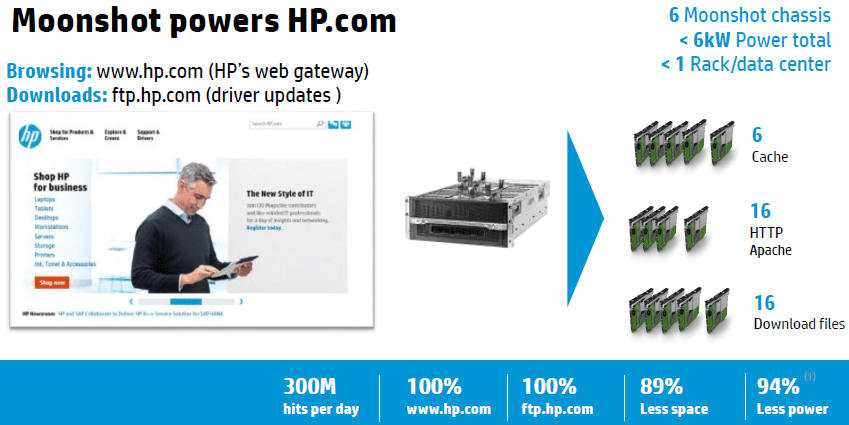 This is a comparison of the current HP Proliant Moonshot server cartridges:

The m800 cartridges are currently available through HP Discovery Labs for interested customers.
Future
For me, Moonshot is a great addition on the Proliant server portfolio. The fact that HP states that they create server cartridges to suit the app rather than trying to make applications that suit the server, shows the flexibility of the Moonshot platform.
Another nice quote of Morgan was that Moonshot is not a replacement for blade servers (I am convinced however I get a lot of questions like these), this is for scale-out hyperscale architectures like single applications scaled across hundreds or thousands of computing nodes…
So there is definitely more to come!
More information can be found on the general Moonshot web page www.hp.com/go/moonshot
Some nice videos can be found here:  www.hp.com/go/moonshot/videos
HP Education released a first training specifically on HP Moonshot Administration.
More information on this class can be found in this document: http://h10076.www1.hp.com/education/datasheets/h4c03s.pdf