HP Discover 2014 in Barcelona had some great announcements as well for the converged management software being HP OneView as leading tool.
6 months after version 1.10 was released, the next version is there being 1.20.
Find here an overview of the biggest changes:
Standard versus Advanced version
So far if you wanted to use OneVIew you need a license per server that you wanted to manage through OneView. You got all features like server profiles, Virtual Connect and all the other stuff.
Now there is also a 'free version' where you have basic functions like monitoring and inventory.
You can make the comparison here with HP SIM which was free and Insight Control where you needed a license per server. The same is now available inside OneView.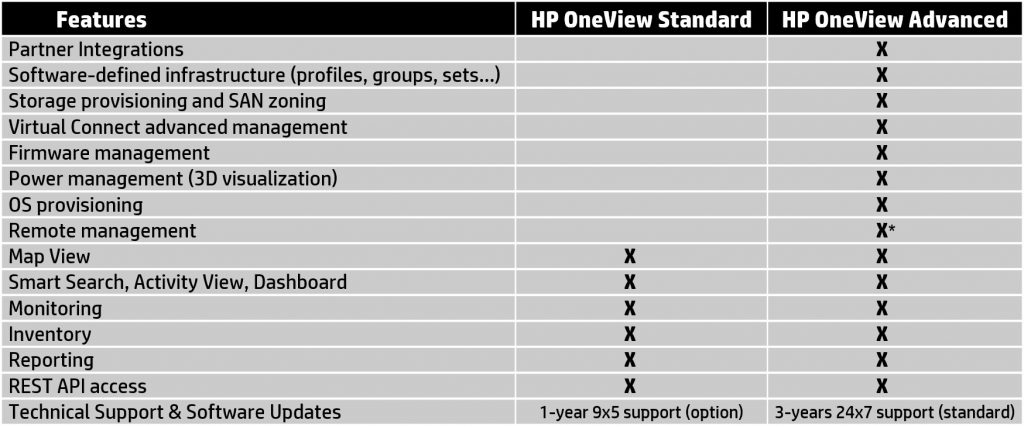 Extended monitoring
Compared to HP SIM the monitoring features in OneView 1.10 were rather basic. You could see the power and CPU consumption of the server and the temperature. All information captured through ILO.
Let's say that HP SIM was much more mature on that level… Not anymore…
This new version adds all the hardware fault monitoring available through the ILO's like server disk, memory, processor, adapters, power and temperature.
Reporting
Another missing function that was heavily used in HP SIM was reporting. Well now there are some reports also available inside OneView 1.20. Not as extended as HP SIM but I have seen some interesting reports available yet…
Email notification
Same as reporting there was no email notification available so far. Also that changed, 1,20 allows now to forward events through email to one or more users, just as HP SIM…
G6 support
I have mixed feelings on this one. HP states that G6 servers are now supported but this is for monitoring reasons only. Let me be clear: if you have a G6 blade in an enclosure that is managed by OneView, you cannot use it since you cannot assign a server profile to it so it will have no network connectivity. It will be consuming electricity that's it.
G6 support is useful however for those customers with DL3xx G6 servers, these can be monitored… But no blades…
Update: to avoid all confusions: G6 blades are supported as well when the entire enclosure is in monitoring mode by OneView, which means that Virtual Connect Manager VCM manages the server profiles and so OneView is used for monitoring only… Yeah right, at that moment I will stick with HP SIM which is more complete than OneView on monitoring side. If I go for OneView I want to use it all the way, right?
Automated VC migration
A customer that wanted to import an enclosure with an existing Virtual Connect environment needed so far use (manual) scripting to import their exiting configuration inside OneView. This is solved in version 1.20. OneView will now recognize the existing VC configuration, do some checks on it and perform the migration for you in an automated way.
Let it be clear it is still not an online process, you have to count 30 minutes downtime on connectivity when importing an enclosure in OneView.
Some other features added in 1.20
–        Customizable Dashboard
–        Gen9 support
–        3PAR volume growth is now supported
–        Import existing 3PAR volumes
–        Flexible Zone Aliases
–        HP 5900CP support
As you can see, OneView is getting more and more functionality from HP SIM, which it will be replacing one day… Well that day is getting closer now…
I don't want to say that OneView is complete now, not at all, but it is at least getting closer…
If you want to know how to update OneView to the latest version, check out the How-To articles on my website where I describe the installation, configuration and update of OneView.
Be social and share!