HPE announced today the next version of its StoreVirtual OS version SVOS 13.5. Current version at release of the SV3200 was 13.0, with an update  a little after the latest version now was 13.1. Procedure how to update is explained in another blog article on www.bitcon.be.
This new version brings 2 important features that we were missing with the initial release of the product in 2015. One of the most important features of the long-existing Lefthand solutions was scale-out. You start with 2 nodes and can grow to 16 nodes when needed.
Other important feature was multi-site awareness with those 2 to 16 nodes. I have a lot of customers running StoreVirtual due to its simple but effective setup with 2 datacenters. Since StoreVirtual 3200 only supports scale-up and no scale-out you didn't even have to think about multi-site support.
Until now!
With the new SVOS version 13.5 these 2 important features will be added on the StoreVirtual 3200 solution.
Scale-Out
SVOS 13.5 allows scaling out from one iSCSI SV3200 to two iSCSI SV3200 arrays. At this time iSCSI is only supported for scale-out with a maximum of 2 nodes, future will tell if this might change.

Best practice is to use the same drive and RAID configuration for both systems. This will give the best predictable performance and reliability. Using systems with different capacities will strand storage that will not be part of the storage pool. Any licensed features should be licensed on both Storage Systems to provide expected results.
Procedure to follow is quite simple. The first SV3200 must be set up and configured.
Second system must have IP addresses assigned and RAID sets created. No Management Groups MG or Storage Pools SP must be there, since they will be added in the other MG and SP.
All you need to do is edit the MG on the first system and add the second storage system.

Once that is done the existing Storage Pool must be scaled out. Same procedure: edit the existing SP and add the additional SV3200 into it.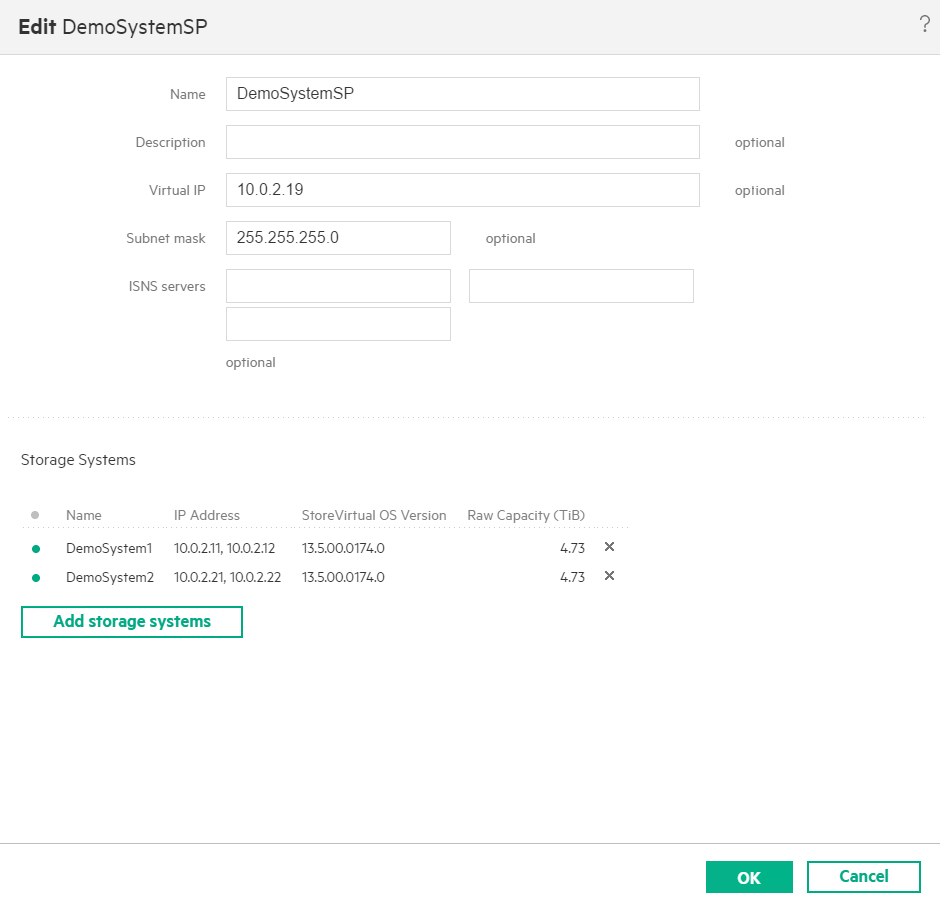 Instead of 2 you will see now 4 controllers: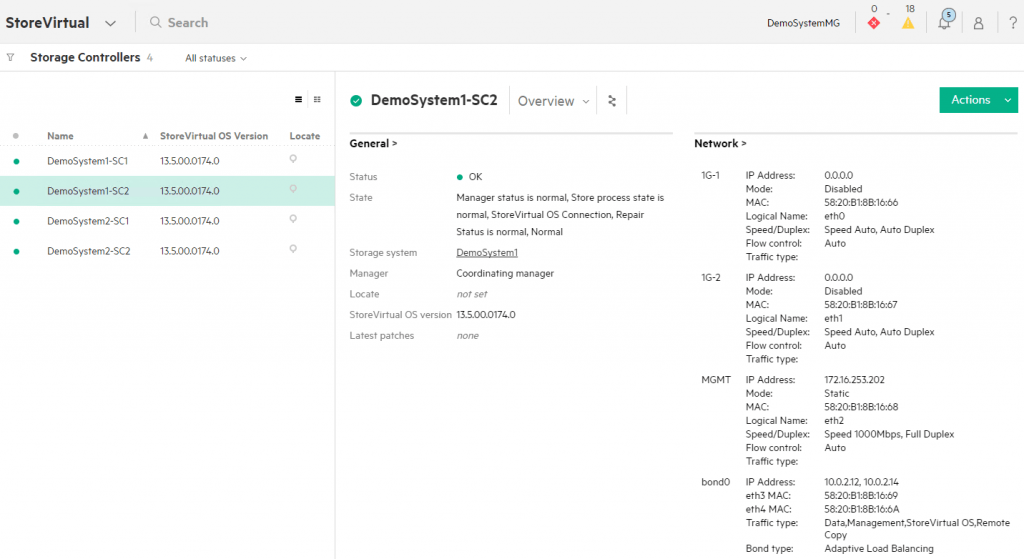 Like with the 'old' StoreVirtual cluster there is still a quorum mechanism. Since we have 4 controllers there will be a total of 3 managers running, which makes that no external quorum witness or failover manager is required.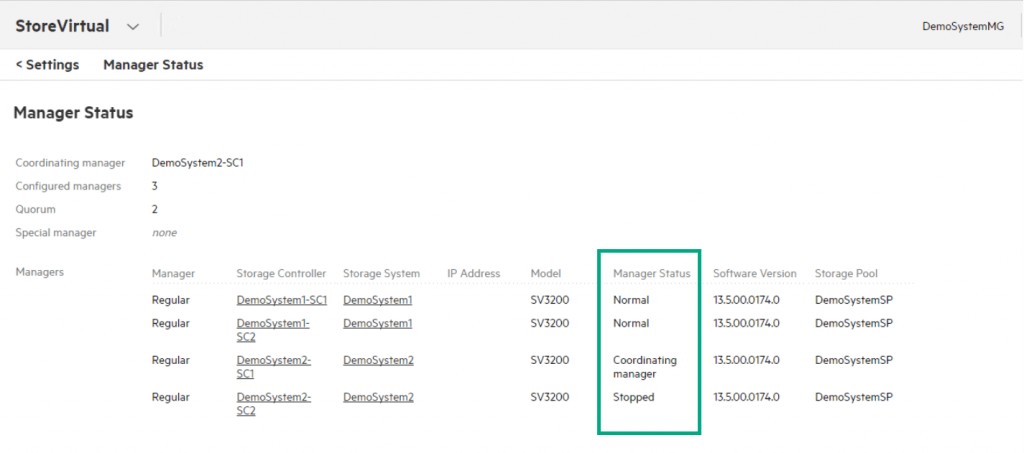 Multi-site stretch cluster
For me an even more important feature added is multi-site stretch cluster support.
The ability to have 2 of these systems in 2 different server datacenters is very important in these days of instant-on high availability. And so one of the main reasons why StoreVirtual was (and still is) so popular.
First you will have to create a StoreVirtual 3200 scaled-out array as described above, installing the 2 storage systems (and servers) on different sites.
Important here is the requirement of the Advanced Data Services license on both systems.
Since we have a stretched network, and so the possibility of a split-brain situation, a FailoverManager aka FOM will be required in a third site for quorum management and automatic failover/failback. No network witness share is supported at this moment. FOM can run on VMware ESXi and Microsoft Hyper-V.
Second important thing is that, since we need our data copied across the 2 systems, we will start using Network RAID 10 again. If you don't know what that is, read this article I wrote many years ago.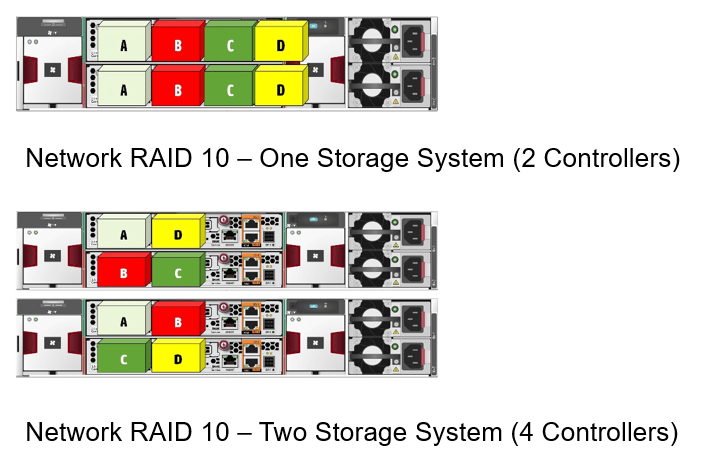 Site creation is similar to the previous generation of StoreVirtual, just create sites by giving them a name and add the storage system and servers to it…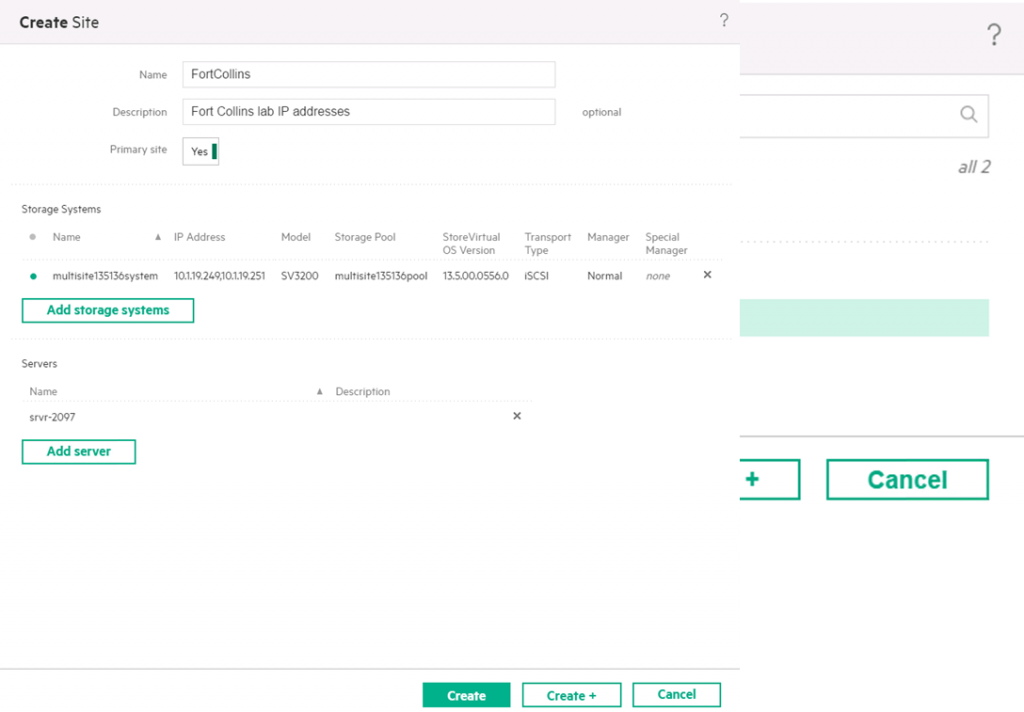 I am quite sure more features will be added in upcoming versions of SVOS, but for me these 2 were the most important ones on my checklist…
Other new features with this announcement:
Besides SAN block-based access now there is also the possibility to access your data through file services or NAS with the newly announced StoreVirtual 3200 File Controller. It is technically a Proliant server running Windows Storage Server 2016 and includes advanced data services like deduplication and compressing to save capacity.
Finally there is now as well the option to run 10Gb Ethernet on 10Base-T aka RJ45 cabling. At launch there was only a SFP+ connectivity option.
More information on StoreVirtual can be found here:
http://www.hpe.com/storage/StoreVirtual
http://www.hpe.com/info/StoreVirtual3200Manuals
Around the Storage Block blog featuring Calvin Zito
Be social and share!