HP announced today at the HP Global Partner Conference in Las Vegas some great new products in the already impressive portfolio of the HP Converged Infrastucture portfolio.
Servers
On server side there is the new HP BladeSystem C7000 Platinum enclosure. Build on the technology from the initial blade enclosure starting in 2006 but optimized for the most state-of-the-art datacenter:
Increased mid-plane bandwidth for demanding workloads

40% increase with FDR InfiniBand support on switch bays 3-8
2x storage bandwidth with 16Gb Fibre Channel

HP Intelligent Power Module and HP Intelligent PDU to automate power configuration and monitoring, verify power redundancy, and eliminate manual errors that can cause unplanned downtime
HP Intelligent Series Racks with Location Discovery Services automatically record the exact location of BladeSystem Platinum enclosures, eliminating error prone manual inventory tracking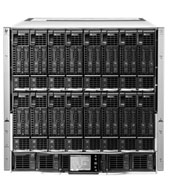 Further there is the capability of 40Gb downlinks to each blade server with the lowest port2port latency on the market – first in the industry. This is possible with the SX1018 HP Ethernet switch.

Finally there is also a new Proliant WS460c Gen8 server blade, which supports high-density graphis with 8 (yes eight!) GPU's per blade server. More users per blade lowers the cost up to 60% compared to the previous versions. Nice!
Storage
For storage there is first the announcement on new StoreVirtual products in the new StoreVirtual portfolio that was launched last December at HP Discover in Frankfurt.
Besides the existing 4130 and 4330 there are now also the 'bigger brothers' 4530 and 4730. 1O Times greater memory, 4 times larger cache, standard 10Gb iSCSI connectivity… These are really optimizef for virtual applications! Up to 256 TB at launch…
Further there is the HP StoreSystem, which is the integration of 2 great products being StoreServ aka 3PAR and StoreOnce. So primary storage (Tier1) combined with data protection build-in… I shouldn't say backup build-in since StoreOnce does so much more than just backing up data…
This is really a product where you can easily explain the words Converged Storage…
It is converged, since it supports block and file protocols while it is protected by StoreOnce.
On top of that it is efficient since there is build-in StoreServ thin technologies and StoreOnce deduplication.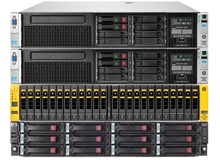 Good job (again) HP! Can't wait for the next big thing…