Together with Intel's announcement of their new Atom C2000 Avaton 8-core processors, HP announced the release of new server cartridges M300 for their Moonshot platform.
The already existing server cartridge runs on Intel's S1200 Centerton Atom SoC, now these new Intel C2000 chips are expected offer more as 7 times the performance and 6 times the power efficiency of the Centerton SoC, making them ideal for the ultra-low power Moonshot project while the range of usage also extends due to the 8-core processor.
It features 8 cores running at 2,4 GHz each, one hard drive up to 1TB and 32GB of memory, according John Gromola, sr Director of hyperscale server product management.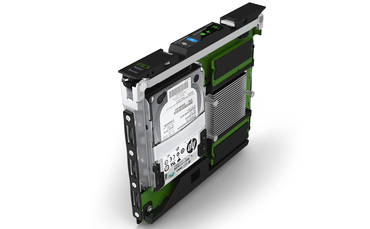 This means 360 cores, 1,4TB's of memory and 45TB's of storage in 1 4,3U Moonshot enclosure.
Multiply this by ten for one server rack and you get phenomenal compute power.
Companies who are focused now on typical 1U rack-mount servers with 8-cores can achieve 336 cores per rack. With Moonshot, HP can obtain this in one-tenth of required space. Ideal in data center or colo situations.
The initial server cartridge was positioned to be ideal for static web serving, this 8-core performance boost will enable the M300 servers to also handle heavier workloads like memory caching, a wider range of Web Hosting and interactive Web content. They are even suitable for handling SQL and NoSQL big data applications as well. So Moonshot can be active on all tiers of your web applications. In a single box.
For the future, more cartridges will be revealed by HP, for instance based on AMD GPU's, Texas Instruments based DSP and Calxeda ARM32 processors. Also storage cartridges are expected.
Definitely to be continued!
More information on Moonshot can be found on www.hp.com/go/moonshot