3 months after the release of Oneview 1.0 and 1.01, HP has released the next version of its next generation 'converged management' platform HP Oneview.
This new update is rather important (let's say long awaited) since this version enables (finally) active/active connections possibility in the Virtual Connect configuration. Version 1.0 and 1.01 supported only active/passive connections.
The full list of changes and updates in this version:
VMware vCenter Server integration with HP OneView delivers powerful HP hardware management capabilities directly from the vCenter console to virtualization administrators,
Active-Active configuration support for Virtual Connect reduces oversubscription rates for more predictable server-to-network-core traffic and provides faster link failure detection and failover times,
RAID support for HP ProLiant blade servers allows local storage configuration support (ACU/SSA) in server profiles,
Dynamic network changes supported in server profiles allows Virtual Connect administrators to change  pre-existing connection networks and connection bandwidth without powering down blade servers,
HP OneView appliance upgrade support from versions 1.0 /1.01 to current version 1.05, and
HP ProLiant Gen8 server support for DL560, DL580, and BL660c Gen8.
All information including download links to the software (full version and update from 1.0/1.01 to 1.05) can be found here:
http://www.hp.com/go/OneView/download
Update is fairly simple and straightforward:
1. Download the.bin image file to your local computer.
2. Log in to your appliance and select Settings/Actions/Update appliance.
3. Move the .bin file to the appliance UI screen either by dragging and dropping or browsing to it.
4. Click Upload and Install to start the update process.
5. You're done!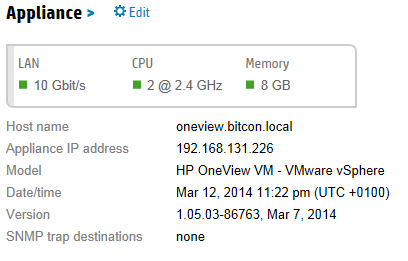 Just did it on my Oneview installation in the BITCON datacenter, all went fine…
Happy updating!