Every year in June HPE organizes its biggest customer and partner event in America: HPE Discover. As last year, it will be held at the Sands Expo in The Venetian in Las Vegas.
I am honored that I can attend this great event again as an instructor and blogger. But there are much more reasons why you should attend this event:
Must do's:
Visit the Transformation Zone. The 3 main area's from HPE (transform to hybrid IT – enable the intelligent edge – empower the data-driven organization) will be everywhere again in this gigantic hall. Explore all the latest products and speak with the engineers and architects who invented them. Following HPE already for more than 20 years, I expect some news on Gen10 servers probably? ILO5? Synergy? Nimble? Simplivity?
The Machine: HPE introduced a few weeks ago the largest single-memory computer the world has ever seen, capable of holding 160 terabytes of data. This is the result of the development since some years around 'The Machine', which we could follow on all previous Discover events. Must check out this next-gen computer.
Go to the NDA zone and discover the future products later this year and next year.
Visit the Industry Showcase and be impressed of where you can find HPE products, going from windmills, electric cars up to retail stores and so much more…
With direct access to product engineers, developers and subject-matter experts, Discover is the place to find answers on all your questions.
Learning:
With nearly a hundred technical breakouts to choose from, attendees will learn more about current Hewlett Packard Enterprise solutions and understand the value of new ones.
Besides that, there are several official HPE trainings you can attend. And directly afterwards get certified at the Pearson-Vue onsite exam center. You next step to become a Master ASE?
I will be there from Sunday already teaching twice the HPE Synergy Solutions class. Feel free to come say hi!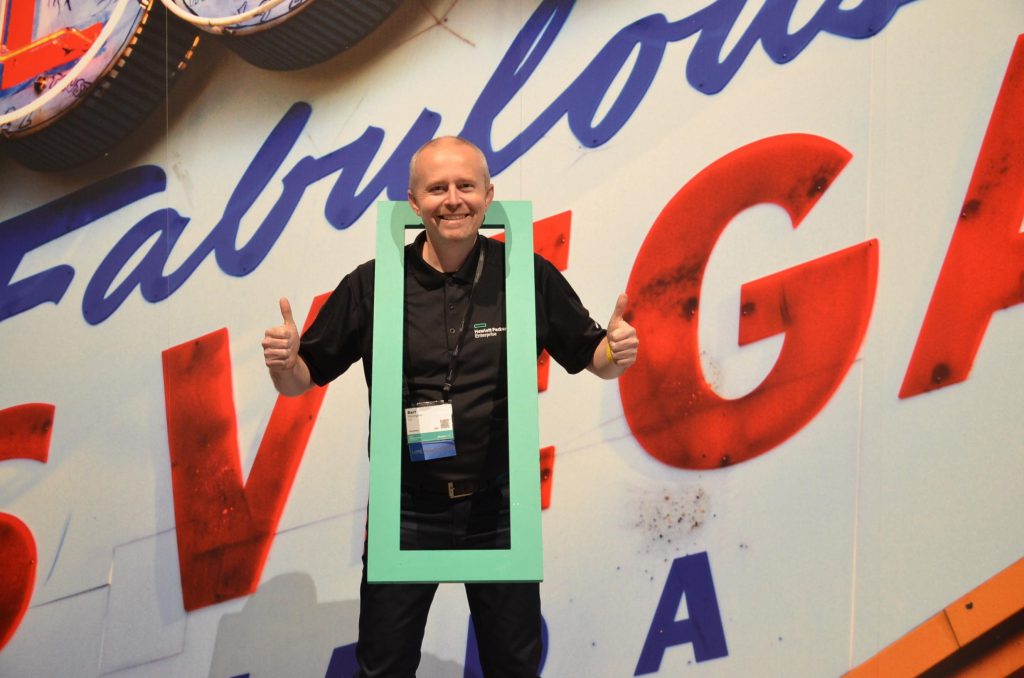 Atmosphere
Come on! It is Vegas! Enjoy the life 24h a day, the only place where you can eat breakfast in the morning, at noon, in the evening and even at night… A city that never sleeps…
But watch out! Weather forecast is very hot! So drink a lot and protect against the sun. Although everywhere inside the airco is boosting…
It will be a fun but very heavy week for sure, it's this week that I will break my personal records on distance walked per day. Apple Watch be prepared!
And it is also the place to meet some famous people:
There are more pictures but you know what they say (sometimes): what happens in Vegas stays in Vegas. 😉
For those who cannot make it to the event, there is a live stream available with most of the general, spotlight and innovation sessions to be followed live from behind your desk. Check my social media for the link to the stream, will post it as soon it is available.
Some more resources about the event:
https://www.hpe.com/events/discover/
https://www.hpe.com/us/en/newsroom.html
Twitter: @HPE_Discover and @HPE_News
Be social and share. And maybe see you in Vegas!