I was able to attend the HP Press conference at HP Discover in Las Vegas today (thanks Calvin! @HPStorageGuy) and hear on first hand all the new
stuff that will be released soon on the HP 3PAR storage platform.
I thought that the announcement last December in Frankfurt was already impressive (the 3PAR 7000, remember?), well today is another next big step
for 3PAR to become the best and biggest storage platform around in mid-tier and high end environments. Babies become bigger!
It is also good to know that Polymorphic Simplicity is still there (remember Frankfurt, thanks David!). At least 1 certainty in life…
New 3PAR hardware :
A new model in the StoreServ portfolio is announced: the 3PAR StoreServ 7450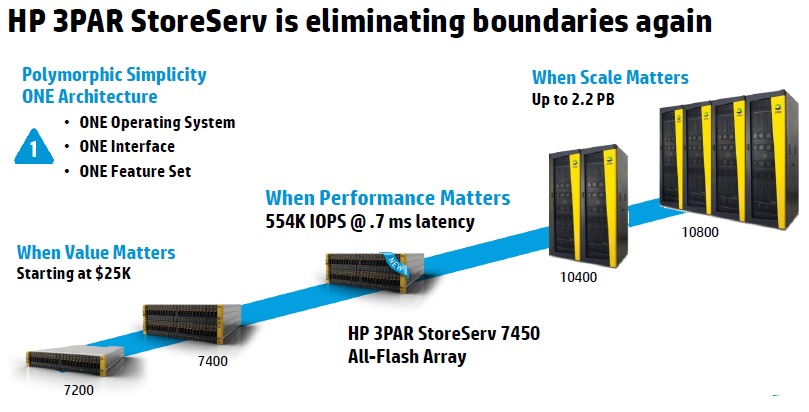 It delivers 554K IOPS at a 0,7 ms latency. This is possible thanks to a massively parallelized architecture, a new flash-optimized cache algorithm and
QOS (see later)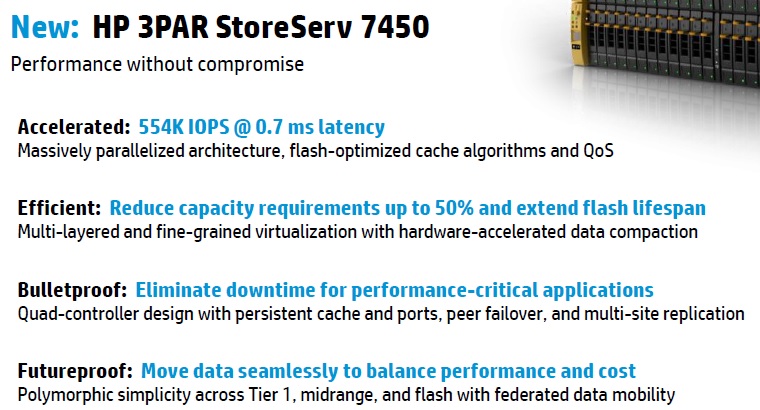 It is bulletproof because of the quad-controller design with persistent cach and ports, peer failover and multi-site replication functionality.
And it is futureproof since of the possibility by Peer Motion to move data seamlessly between StoreServ systems to balance performance and cost.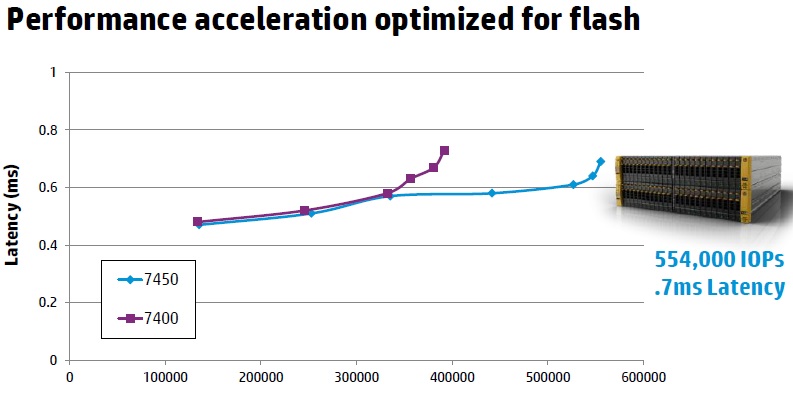 These numbers were obtained by putting (only) 48 SSDs in a 7450 with 4 controllers. Important here to know is that caching was disabled with a
random 4k patern…
3PAR OS improvements
An important feature that HP adds to the 3PAR products is HP 3PAR Priority Optimization Software.
It ensures high performance where needed by enabling administrators to deliver quality of service for essential performance-intensive applications.
So it assures performance at any time for IOPS and Bandwidth.
It is controlled at the tenant and application level and will be available at all 3PAR StoreServ models.
Per application you will be able to set a certain number of IOPS that must be available for that application. QoS on 3PAR!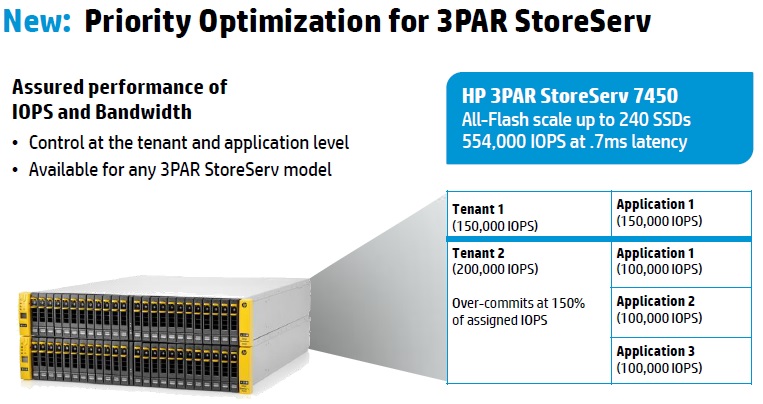 Further is there the addition of 3PAR StoreServ Data-at-rest Encryption.  It allows customers to comply with regulatory requirements and security
issues stemming from a compromised drive by encrypting the HP 3PAR StoreServ Storage system using self-encrypting drives.
Finally 3PAR Recovery Manager for Windows Hyper-V is there.
It provides space-efficient snapshot and rapid recovery of business application data within a Hyper-V virtual machine through seamless integration
between HP 3PAR StoreServ Storage and the Windows® Hyper-V host.
Finally there is also the creation of the HP StoreFront Mobile Access. Currently only for Android (come on!!! Is this a joke?) it enables you to monitor
and manage all your 3PAR environments from your mobile phone…
Besides the 3PAR new stuff, there is also the announcement of the HP StoreFabric SN6500B B-series Fibre-Channel switches, which scales from
48 up to 96 ports with 4, 8 and 16Gb speeds… The product underneath is from good old Brocade… Always good to hear… By the way know that the
HP P2000 G4 model will be the first to support 16Gb, HP 3PAR will be 8Gb for now… But it is sure that this will come for sure one day in another big
announcement.
This new functionality will be available with the new 3PAR OS update 3.1.2 MU2…
You can find also some great video's and chalktalks by Calvin Zito aka @HPStorageGuy on his blog
http://h30507.www3.hp.com/t5/Around-the-Storage-Block-Blog/Storage-news-from-Discover/ba-p/140385
And there is also the great blogpost of my friend Hans De Leenheer. You can find it on his site
http://hansdeleenheer.blogspot.com/2013/06/baby-3par-has-super-powers.html
Well since HP acquired 3PAR in 2010, we can say that HP's size and experience was a good thing for the 3PAR portfolio. When we take a look at the
product portfolio and functionality, it seems to be a great storage platform for all environments.