HP released today the newest version of HP Insight Management software containing HP SIM, Insight Control, Virtual COnnect Enterprise Manager and Matrix Operating Environment.
This means that HP SIM is not dead yet, allthough some people may think this with the release of Oneview.
Find here the updates in the various components:
Support for the latest ProLiant next-generation (Gen8) servers
CMS and managed node support updates
Browser support updates
HP Systems Insight Manager 7.3:
HP Insight Control 7.3:

Support for IPv6 level 3
Localized for Simplified Chinese

HP Insight Control for Microsoft System Center 7.3.1: 

Updated HP ProLiant SCCM 2007/2012 Integration Kits to support OS deployment with drivers from SPP 2013.09.0
Updated HP ProLiant SCVMM 2012 Integration Kit to support OS deployment with drivers from SPP 2013.09.0
New ProLiant Updates Catalog with Windows software and firmware from SPP 2013.09.0
Updated HP Virtual Connect Management Pack for SCOM to include additional fibre channel properties
Support for new options and servers supported with SPP 2013.09.0
Qualification of the existing HP Insight Control for Microsoft System Center 7.3.1 to provide:

Support for all HP SCOM management packs with Windows Server 2012 R2 and SCOM 2012 R2
Support for the HP Fabric Management Add-in for SCVMM 2012 R2 and Windows Server 2012 R2

Windows Server 2012 R2 and System Center 2012 R2 support for the remaining HP Insight Control for Microsoft System Center components will be provided in a future release

HP Insight Control for VMware vCenter Server 7.2.3:

Completion of the transition to VMware vCenter Web Client introduced in vSphere 5.1 delivering the most complete server, infrastructure and storage management solution under VMware vCenter:

Virtual Connect networking diagram view
Cluster view dashboards
Firmware deployment
Expanded presence in the VMware Web UI theme tabs
Context sensitive actions via pull down menus

New VMware host network provisioning capability via Virtual Connect profiles ensure you have matching virtualized networking configuration to the profile set in Virtual Connect
Enhanced bare metal deployment using HP's new Insight Control server provisioning from context sensitive menu and adds your newly deployed host to the appropriate cluster
Storage module specific enhancements introduced in this release:

Monitor HP StoreOnce Backup & StoreOnce VSA
View HP infrastructure inventory list
HP StoreVirtual Fibre Channel Support
HP MSA 2040 Support

HP Virtual Connect Enterprise Manager 7.3:
HP Matrix Operating Environment 7.3:

Provision virtual/physical server in an IPv6 network with a static IP address
Add VM disks without requiring a reboot
Support VMs with multiple data stores and thin provisioning
Configure network with no IP
Ability to add/remove a network from an instantiated VM server
Perform memory and CPU changes to a running VM
Allow the admin to change the cost of deployed services (CLI only)
Allow admin to specify the cost of customization
Localized for Simplified Chinese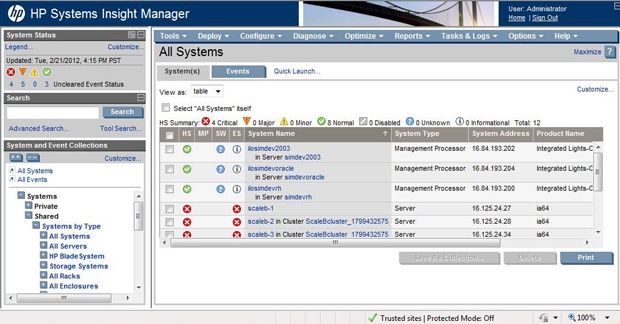 Usefull links:
– hp.com update website: www.hp.com/go/insightupdates
– SW Depot direct link: https://h20392.www2.hp.com/portal/swdepot/displayProductInfo.do?productNumber=IMDVD      (IM DVD plus all IC downloads)
– Product documentation: www.hp.com/go/insightmanagement/docs
Download is already started for the Bitcon datacenter installation!