HP announced and showed at HP Discover in Frankfurt several new products that benefit extremely from Windows 8…
First there is the long expected ElitePad 900. The first real Pad for the business environment.
Light weight (680 gr), SIM and microSD expansion slots, Windows 8 Pro, multiple accessories like sleeves with additional batteries, keyboard integrated sleeves, docking station…
Also the several security features like TPM and drive encryption makes this tablet ready for the enterprise.
And it looks good also!
The datasheet of the ElitePad 900 can be found here.
The availability is expected in January.
Further there is the EliteBook Revolve. It will replace the current 2760, well known for its rotatable screen.
Not much specs yet except the typical i3, i5 and i7 processors, 4GB of RAM (expandable to 12), 256GB SSD and 12″ screen. But since the product is foreseen only later in 2013 some specs may/can change.
Since it is a EliteBook it is also a device for the enterprise.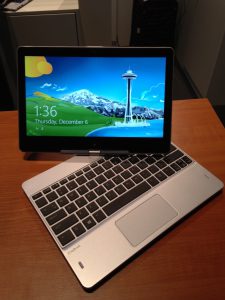 Finally there is also the Envy X2. This is not an Elitebook so more consumer oriented but it might be a good option anyway since while working with it, it is a rock solid device.
Most impressive thing on this one is the fact that U can remove the screen of the laptop and continue to use it as a tablet. All logics are inside the screen and not the keyboard part of the device.
While working on it, performance looks great, while it is light-weighted as table function… One of my favourites…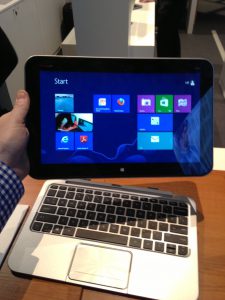 More information on the Envy X2 can be found here.
It looks like the future of laptops will be touchscreen… Thanks to Windows 8 UI…