One of the announcements at HPE Discover in London 2016 was the next step of HPE into the HyperConverged world with the launch of the HyperConverged Operating Environment 2.0 (HCOE).
Before we dive into the details I want to share the latest Gartner quadrant on Integrated Systems.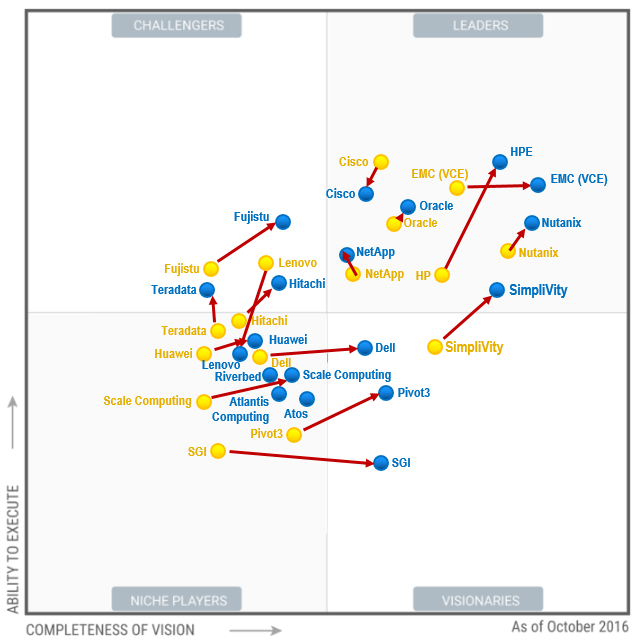 We see that, compared to the 2015 version, the 2 largest movers are SGI (now part of HPE) and HPE themselves. Looking good for the future.
UPDATE 17/01/2017    Simplivity is the 3rd biggest mover, which is acquired today by… HPE!
This quadrant does not even take into account the launch of the HCOE 2.0. With what I have seen on the HPE Discover show floor, I see that HPE bullet even move up more to the right…
So what was announced in London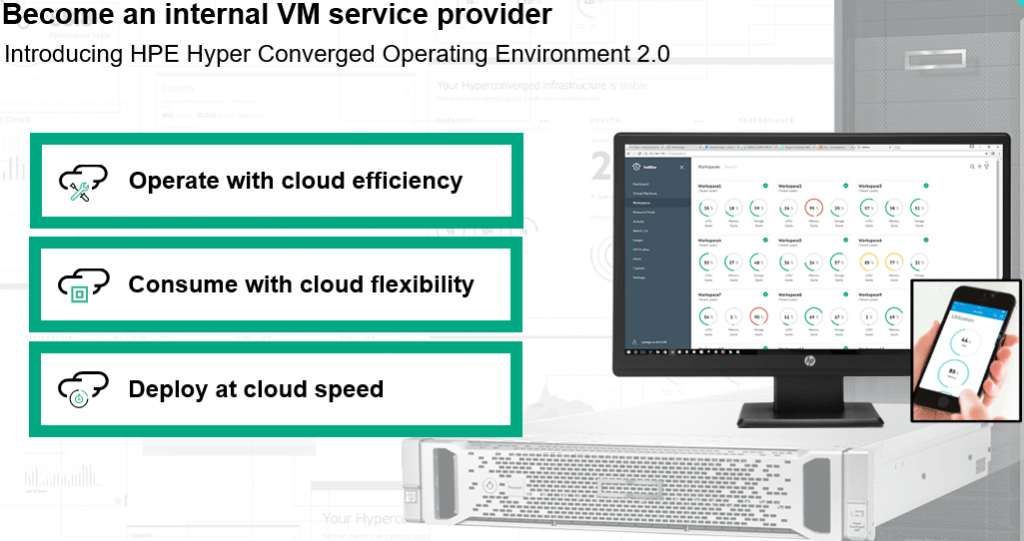 The current HC380 systems were put on the market as "VM vending machines". In a few simple clicks you can deploy 100's of VM's on the solution without the real need to know the underlying infrastructure like StoreVirtual VSA or VMware vCenter. However, the entire HC380 stack was considered as one cluster of nodes to be used all or nothing. No multi tenancy whatsoever…
With the launch of HCOE 2.0 HPE adds some more features in the solution so it becomes a VM vending machine for an internal VM Service Provider.
Rapid deployment: The install wizard (aka OVIO OneView InstantOn) allows the setup of the solution (including adding nodes afterwards) in only 30 minutes. Deployment of the VM's is a matter of just a few clicks as wel.
Intuitive management: The HCOE interface allows the management of 100 VM's with one generalist. I should consider an HC380 solution in my home lab so my kids of 6 and 10 can help me, that easy… The interface is build on HTML5 so management can be done even from your preferred smartphone if you wish to do so.
Build-in Data Analytics: Predictive analytics show when and where capacity is needed on host and VM level. With this you can easily move resources seamlessly based on usage. With the proactive alerts at system and VM level it allows as well faster problem resolution.
Lifecycle management: One thing I find the most interesting (as an infrastructure guy) is the easy procedure for system-wide updates of firmware, drivers, hypervisor and operating environment in just 6 clicks without any service disruption for the VM's running on the solution. HPE will deliver 1 single file that will do all this magic for you.
A sneak peek of the software was already shown in London, and I was able to play with it. First looks were great.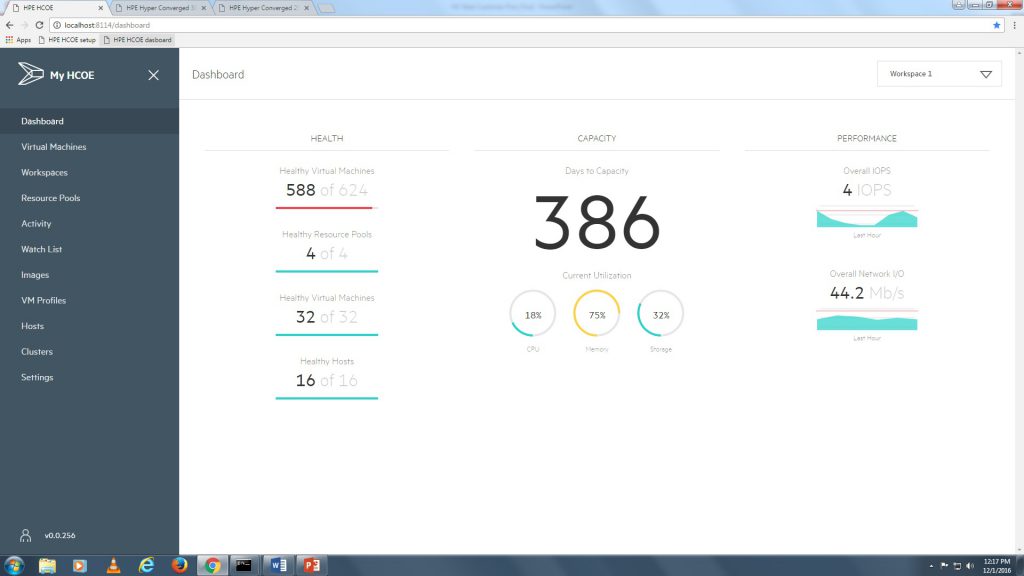 Compared to the current HC380 interface we see some more options. Workspaces and Resource Pools are the most important changes at this moment. Know that in the final version of the software items may be changed or the order looks different. More about availability at the end of this article.
Dashboard looks sleek with a good overview on health, capacity and performance in just one screen.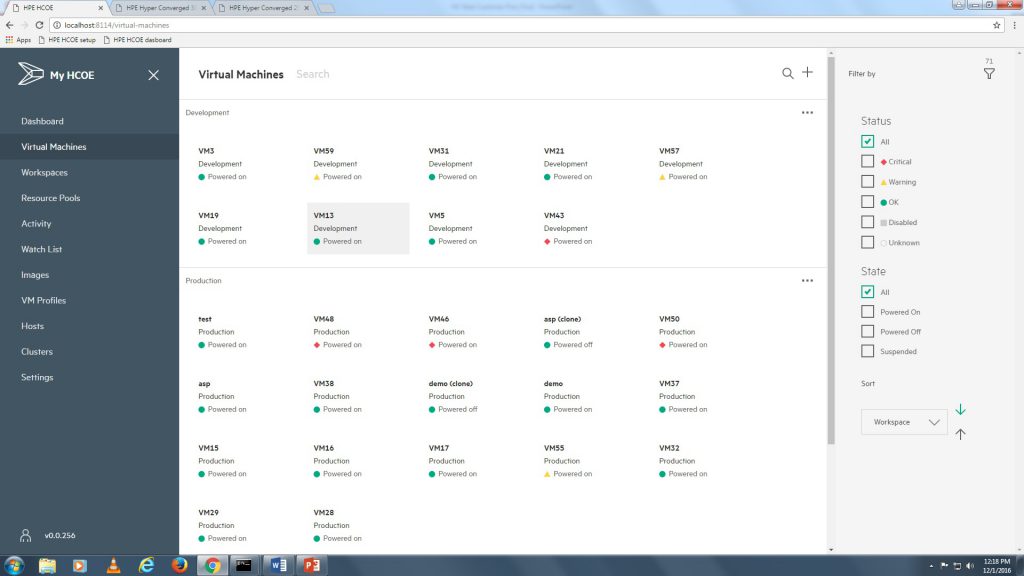 In the Virtual Machines view we get a better subdivision of VM's running. This was needed when running 100's of VM's to find the interface as easy as possible to find all information needed. For this also the filtering got extended.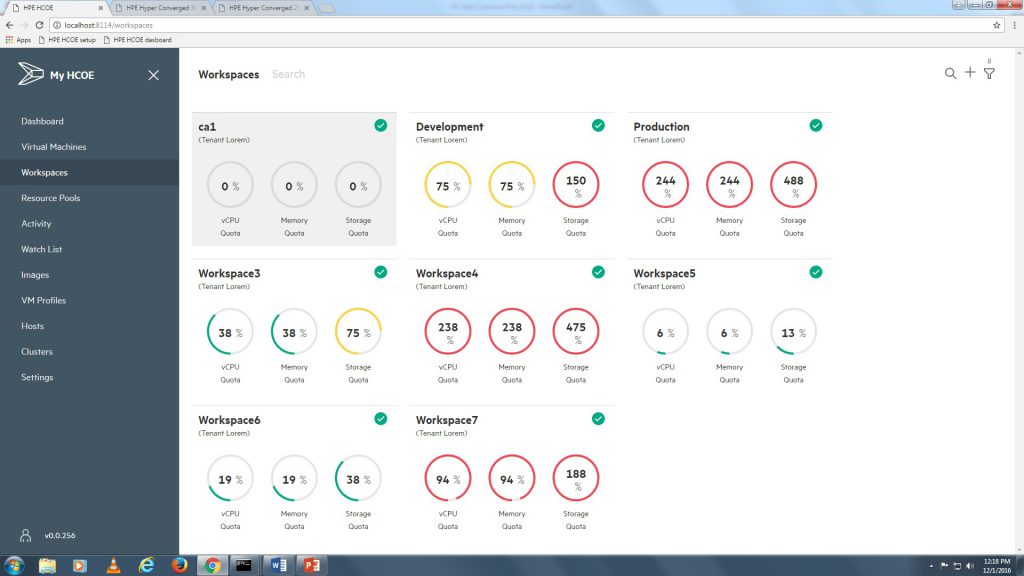 It is possible now to divide your HC380 stack into multiple logical workspaces. With Role Based Access Control, you will be able to give admins the right (or not) to deploy VM's inside their workspace. It is obvious that admins from one workspace cannot see what is happening in other workspaces.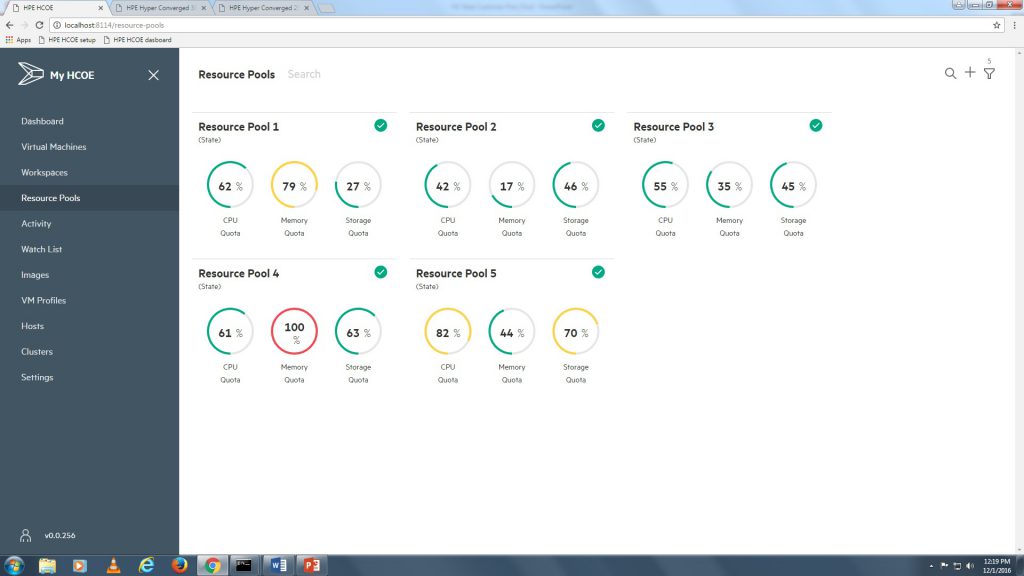 Even more important is that these admins in their workspaces get just a part of the resources of the HC380 stack. This is done by using Resource Pools. You as a super-admin of the solution will control per Resource Pool how many resources these admins will get by implementing quota's.
Software is not available yet so far, dates I heard on the floor were somewhere first half 2017…Initially it will be available on the HC380 solution only, I hope it will be available later as well on the HC250 stack.
Important to know is that it is a software upgrade only, so current HC380 systems will be able to use this new interface without any problems…
Be social and share!