Last June at HP Discover in Las Vegas I made some time to walk around at the partner booths and see their solutions and integrations with HP hardware and software. One of them caught my attention and remind me of the time when I supported a large European based customer maintaining their HP based server and storage environment.
That environment was mainly based on HP Bladesystem enclosures with Virtual Connect modules connected to their Cisco based network. In those years I had quite some challenges that most of you will recognize:
–          Performance issues
–          What is happening? (see above)
–          Why is this happening? (see above)
–          Who is causing this? (see above)
–          Badly configured environments (most of the time because of bad documentation – see below)
–          And even more but similar cases
I had quite some configuration tools available from HP (Systems Insight Manager, Insight Control, Virtual Connect Manager, Smart Update Manager, …) which are great for configuration but no so great when you have performance issues… Citrix guys blaming the network guys who blame the server guys who blame the application guys who blame the virtualization guys who blame the Citrix guys again… Right?
Well, at that moment it should have been great to have a tool like MagicFlex.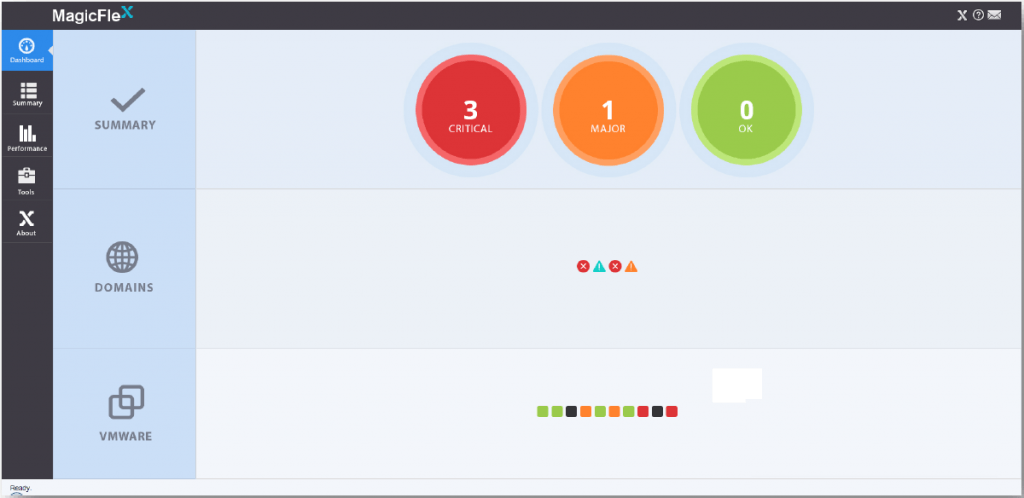 This tool plugs in into your Virtual Connect environment and get the most important counters and configuration details and gives you in a Dashboard or Summary pane a quick overview of how healthy (or not) your Virtual Connect environment is.
I remember that time when 1 of the 26 enclosures had selected the same range of MAC and WWN addresses… Since there were 8 sites with WAN connections, having some servers with the same MAC address is not that bad, since there is a routed network in between. Until the company decides centralize their deployment servers (which were deployed per site) to 1 central solution. As result we started the deployment of a server in Germany and for some kind of reason a operantion up-and-running server in Finland rebooted and started to deploy as well… What??????? Well both servers had the same MAC address. These kind of things happen in real life (because everyone has plenty of time to read and update documentation sets right?). Well MagicFlex would have warned me already before saying that duplicate MAC addresses were used in the environment.
Other cases (which happened rather often) were performance issues. I do not want to blame any technology used at that customer (too much) but to find out who was causing the performance bottleneck was sometimes really hard because of the silo'd management. Was it storage, the network, servers, software?
At that moment Virtual Connect Manager (and even OneView today) will not be the biggest help since you cannot see online or in the past the load on your ports.
MagicFlex allows you to check in real-time mode the load on the uplink and downlink ports.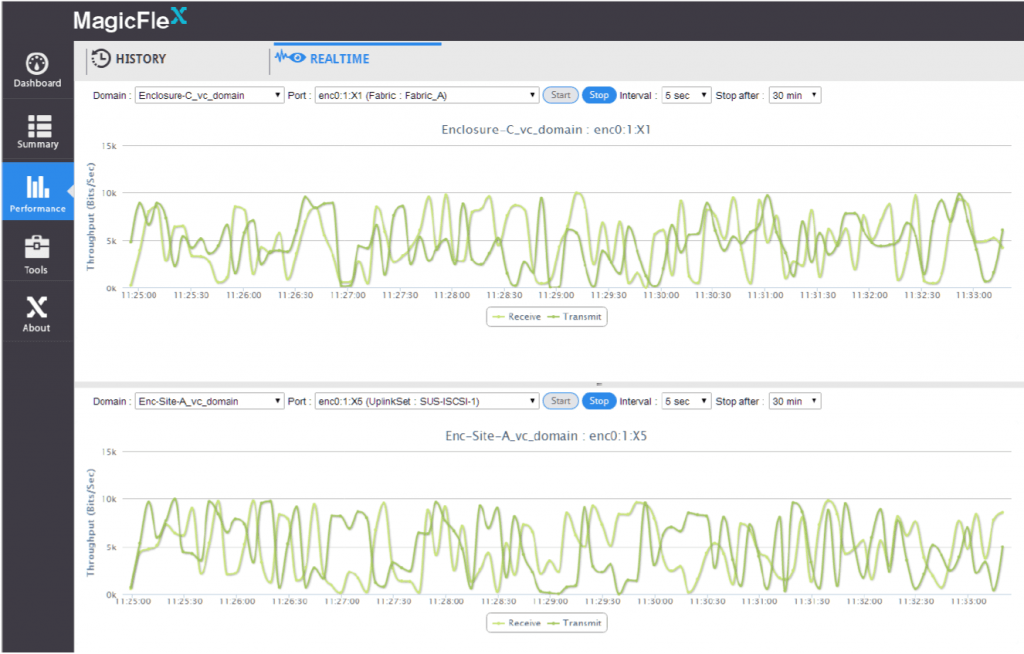 One of the cool things (in my case) was that I could see the result of the upgrade from Oneview 1.05 (Active/Passive) to 1.10 (Active/Active) traffic… At least I can see easily that my load balancing is effectively working.
Thanks to the connection with vCenter you can also see the traffic on the downlink ports on pNIC and vNIC level…
Of course you also get a Dashboard and Summary page were you get an overview of the status of your Virtual Connect domains and eventual issues.
Nice feature is the listing of the Top used ports on uplink and downlink (server) ports. You can see in one view (got it? 😉 ) that the load (at least on network level) across your servers is equally spread.
The MagicFlex team gave me the possibility to test the software on my production BITCON environment. Initially it was with beta software to see the latest integration with Oneview, but there the support team reacted very quick and professional to find a working solution. Nice to see.
Some remarks as well.
The Show Config (and comparison of previous configurations) does not work with Oneview managed Virtual Connect environments, and also the System Log. It would be great that this feature comes available as well for the OneView environments in some kind of way.
Find MAC addresses was a great feature in Virtual Connect Manager based environments, meanwhile this function is also available in OneView.
The Recommendations page can be handy but every time I updated OneView and my vMware environment I got (sometimes) some false alerts or incompatible driver notifications which was sometimes correct but sometimes also a false alert.
But having the real-time and history graphs already available for extended troubleshooting makes this tool a must-have asset in your environment.
The availability of a trial version can help in getting convinced of the tool. Try it!
In the latest version there's a Toolbox which is free for an unlimited number of domains and provides you with the dashboard and the tools, and a licensed version with (obvious) full functionality.
More information can be found here: www.magicflexsoftware.com
Here you can request the trial version: http://www.magicflexsoftware.com/#!download/c1rjp