I was surprised that with the release of the latest SPP (Service Pack for Proliant) there was a new version of HP SUM (Smart Update Manager), but it was not the long awaited new version 6.0 but a minor update 5.3.5…
The new version 6.0 is in fact a completely newly (re)build product from scratch… Announcements and beta demo's told me that this was the product we were waiting for. And now it was not in the new SPP???
However, HP SUM 6.0 seemed to be available as a separate download on the HP website outside the SPP. It seems that there will be a supplement somewhere in October on the SPP with the launch of VMware ESXi 5.5, I assume then HP SUM 6.0 will be in there? And if not, it will be definitely in the next SPP.
One of the things that I didn't like in the 'old way of working' SUM 5.x was the 'Back' button which was always there but always greyed out… So if you finished a deployment, or wanted to add or remove some servers for patching, you always needed to restart HP SUM with a rescan of the repository and so on… Very time consuming…
So I downloaded the new HP SUM 6.0 seperately and started to play with it… It was love at first sight!
First thing that is different is that it runs as a service now on your PC/server and has a completely redesigned (webbased) layout/homepage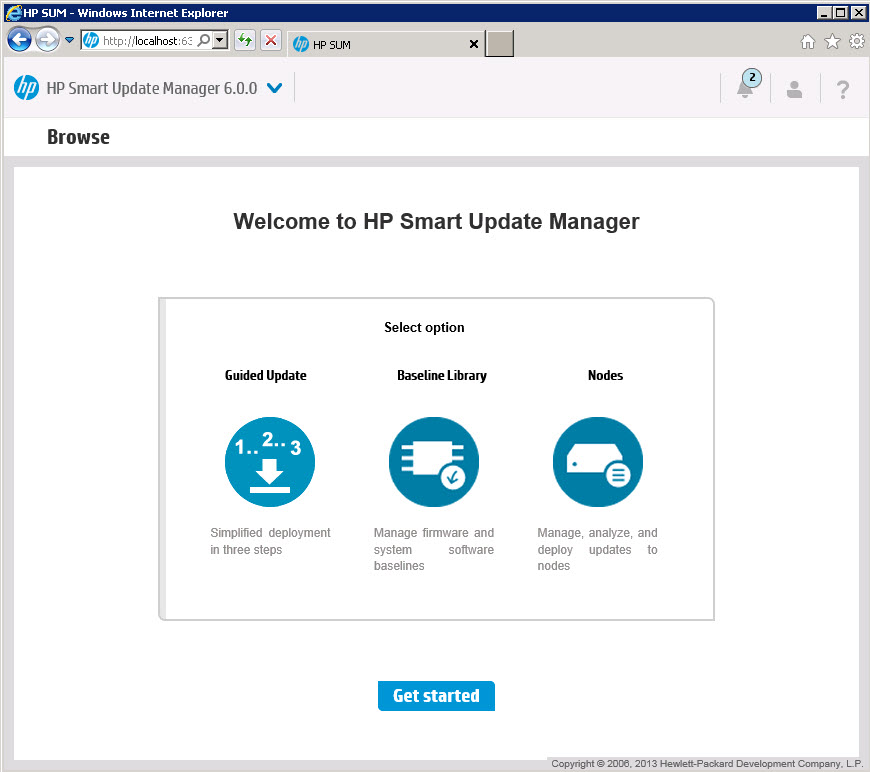 First possible actions are the Guided Update (automated, wizard-driven update / currently only available on the localhost where HP SUM 6.0 is started / future versions will also support remote systems), Baseline Library (where you will manage one or more SPP versions) and Nodes (all types of devices supported by HP SUM 6.x).
On top we find the HP SUM 6.0 menu:
Here you see the supported devices/categories that aer supported for update by HP SUM 6.0. A blade enclosure will be actually the Onboard Administrator boards inside that will be updated by HP SUM. Further we have the obvious blades, iLO, VM hosts, Virtual Connect and even iPDU and switches.
Steps to follow are rather logic and simple!
– Add a baseline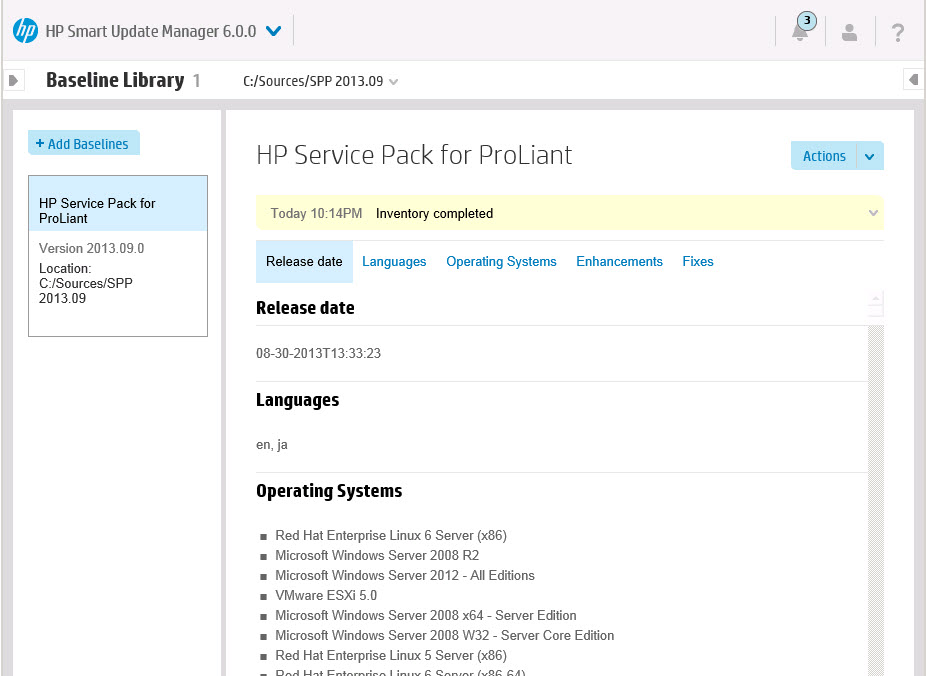 – Add Nodes – Enclosures – Servers – Switches – iLO – VM hosts – Virtual Connect devices
– Run Inventory
– Attach a baseline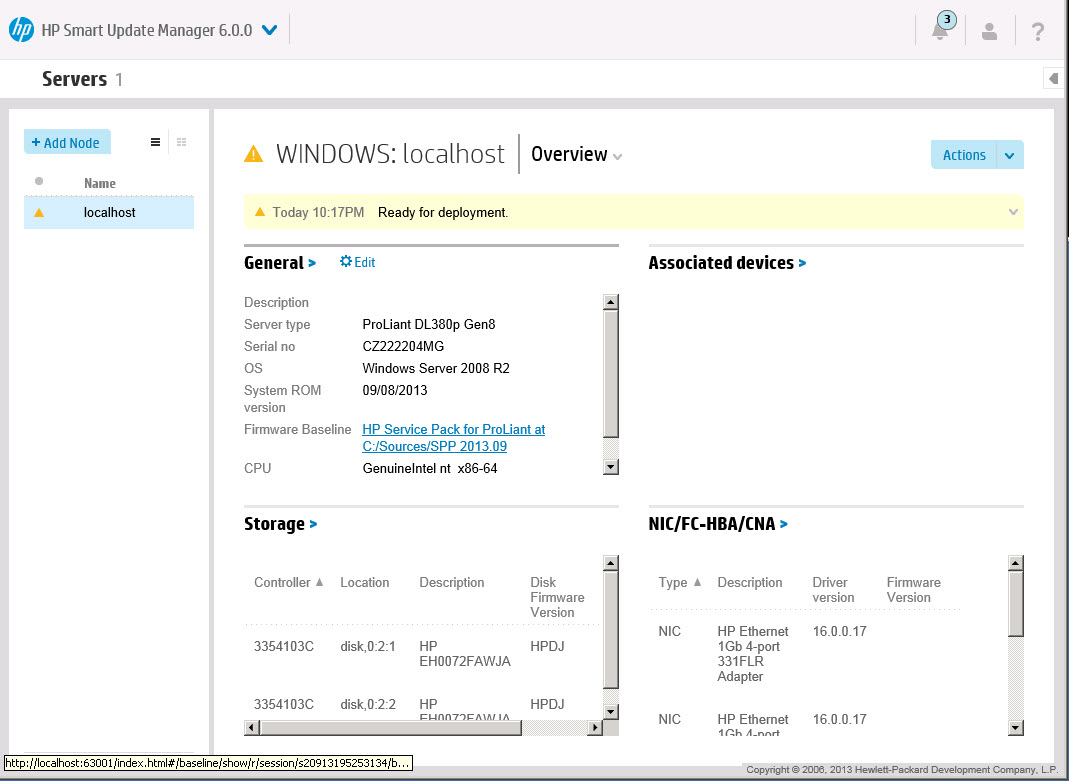 Now you will get a list of required updates on the selected device. How easy can it be? My daughter of 6 could do this!
Like in the previous versions, there is also a Reports generator available that allows you to run inventories upfront and check compliancy with a specific SPP, and which updates are needed: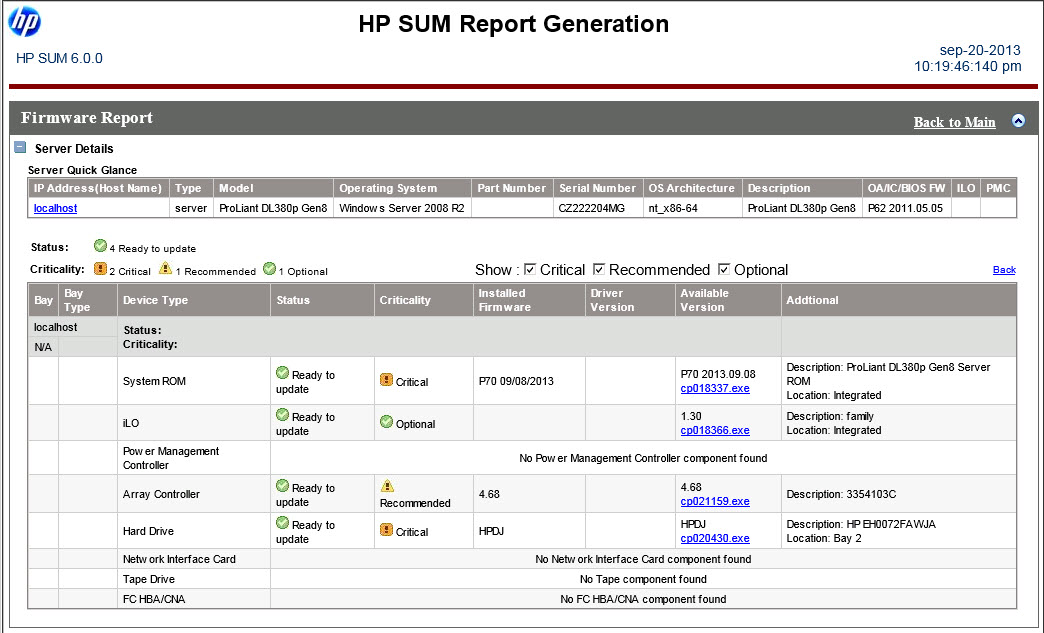 Some new terms were introduced in this new version of HP SUM 6.0 compared to the prvious version 5.x:
Repository –> Baseline
Target –> Node
Discovery –> Scouting / Inventory
Install –> Deploy
I suggest that you try the new HP SUM 6.0 by downloading it from the HP Support website.  You will see that it is a big step in the right direction, and that it will make your life much easier with updating your HP infrastructure.